We Rely On Your Support: This site is primarily supported by advertisements.

Ads are what have allowed this site to be maintained for the past 16 years.

We do our best to ensure only clean, relevant ads are shown, when any nasty ads are detected, we work to remove them ASAP. If you would like to view the site without ads while still supporting our work, please consider our ad-free Phoronix Premium. You can also consider a tip via PayPal.
22-Way AMD+NVIDIA Graphics Card Tests With Metro Redux On Steam For Linux
A few days back I wrote about being able to finally get the Metro Redux game benchmarks running in an automated manner under Linux to the point that we're now able to test it with the Phoronix Test Suite. With Metro 2033 Redux and Metro Last Light Redux now running well for our testing purposes, I've carried out performance tests of these two games with twenty-two AMD Radeon and NVIDIA GeForce graphics cards on Linux. Besides looking at the normal FPS result there's also frame latency metrics, power consumption data for each of these graphics cards, performance-per-Watt metrics, and GPU thermal results. If you're wondering what graphics card works best for your needs for OpenGL 4.x Linux gaming, here's an interesting look with the Metro Redux titles that premiered on Steam for Linux back in December.
In August of last year was when the Metro Redux titles were released for Windows and the PlayStation 4 / Xbox One while the Linux releases just happened in December. Unfortunately, we weren't able to deliver any prompt benchmark results for these updated games out of 4A Games as the Linux benchmarking mode wasn't fully working but now we've managed to workaround it by using libframetime while waiting for 4A Games to properly fix their benchmark mode. All of the details about this were covered in last weekend's article but long story short it now meets our strict automated and reproducibility requirements for Linux benchmarking and can carry out these tests by simply running MONITOR=sys.power,gpu.temp PERFORMANCE_PER_WATT=1 phoronix-test-suite benchmark metroll-redux metro2033-redux and have everything properly measured and collected. Unlike the other Steam benchmarks, the Metro games also don't require setting any crazy library paths or other environment variables for it to run nicely when controlled via the CLI outside of Steam.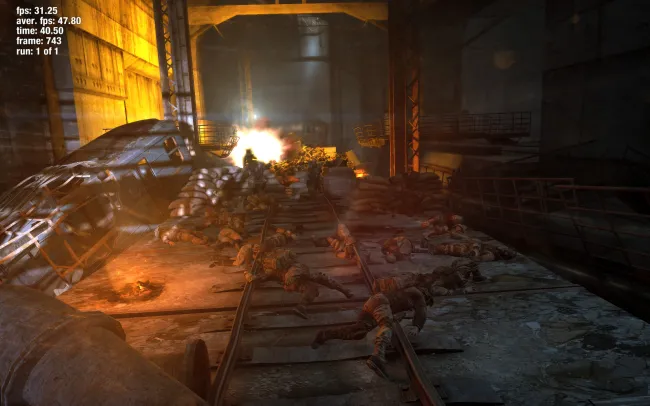 The tests for this article are just being done with the proprietary NVIDIA and AMD Catalyst Linux graphics drivers. The Metro Redux games require OpenGL 4.x support on Linux and will not even launch without said support. Once the Intel Mesa DRI and Radeon/Nouveau Gallium3D drivers support all of the necessary extensions to properly run Metro Redux, I'll certainly be back with open-source graphics driver benchmarks for these two AAA games.
Even for the proprietary Linux drivers these games are quite demanding with there not being many other OGL4 titles right now. As you'll see from the results, the AMD Catalyst driver in particular has an extremely tough time running these tests. The latest driver versions were used: AMD Catalyst 14.12 (Omega) and the NVIDIA 346.22.