Intel Iris Graphics Performance With Mesa 10.6
With Mesa 10.6 due to be released in early June, our usual performance comparisons of this new Mesa 3D version will come. To get our latest round of Mesa open-source graphics driver benchmarking kicked off, here are benchmarks of Intel's Iris Graphics when comparing Mesa 10.5 and 10.6 Git atop Ubuntu 15.04.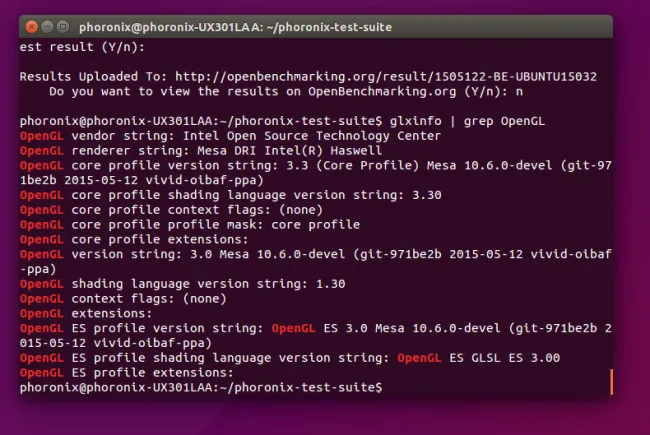 For this early Mesa 10.6-devel benchmarking, an ASUS Zenbook with Intel Core i7 4558U processor was used, which is backed by Intel Iris Graphics 5100 (Haswell-ULT). Ubuntu 15.04 with Mesa 10.5.2 stable was tested followed by upgrading to this week's Mesa 10.6-devel state from the Oibaf PPA for easy reproducibility. During this Intel Iris Mesa 10.5 vs. 10.6 comparison, the Linux 4.1 Git kernel was used for providing the latest DRM driver code. As talked about in numerous Phoronix articles, Mesa 10.6 brings numerous OGL4 extensions, NIR, and other improvements that materialized within the user-space open-source graphics drivers over the past three months, but officially still with Mesa 10.6 there's only OpenGL 3.3 compliance for current Intel hardware.
All of the benchmarks in this article were carried out using the open-source Phoronix Test Suite benchmarking software.