MeeGo Tablet UX 1.3 May Use Wayland This Year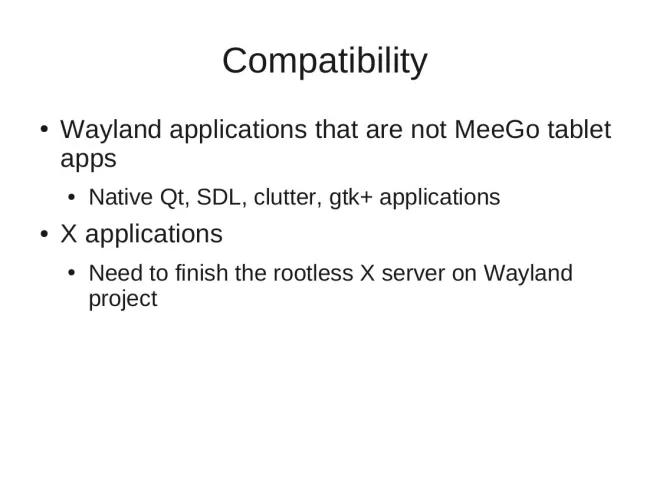 While the MeeGo Tablet UX interface may be working on Wayland, there are various applications that are not part of MeeGo itself. There is still work needed to finish a root-less X Server on Wayland, but besides Qt there are also GTK3 and Clutter back-ends for Wayland.
Other remaining work according to Kristian includes: session management, MeeGo graphics system type-of-workaround for PVR, polish and integration, and enabling other types of clients. This includes supporting SDL for games and X for legacy applications.
To decide upon is when to switch to Wayland for MeeGo 1.3, whether the QML Scenegraph and Qt Quick 2.0 work should be back-ported (the Qt 5 features), and determining a policy for non-MeeGo applications running on Wayland. MeeGo 1.4 should be more interesting for Wayland. It is quite interesting though that with MeeGo 1.3 for tablets is where we may see the first bits of Wayland deployed.
For a more general overview of the Wayland Display Server, see the LinuxTag Wayland presentation from earlier this month by Novell's Egbert Eich.
If you enjoyed this article consider joining Phoronix Premium to view this site ad-free, multi-page articles on a single page, and other benefits. PayPal tips are also graciously accepted. Thanks for your support.