We Rely On Your Support: If you would like to support Phoronix this autumn during these challenging times, you can enjoy our "Oktoberfest" sale... Phoronix Premium is available at a discounted rate for the rest of September. Learn more with the the 2021 Oktoberfest special.
12-Way AMD Catalyst 14.12 vs. NVIDIA 346 Series Linux GPU Comparison
With this week's release of the AMD Catalyst 14.12 driver that brings some Linux performance improvements (particularly for the Radeon R9 290 of the hardware we've tested thus far) and new features, here are some fresh benchmarks comparing twelve AMD Radeon and NVIDIA GeForce graphics cards when using the latest proprietary graphics drivers. On the AMD side was the Catalyst 14.12 Linux release while on the NVIDIA side was their new NVIDIA 346.22 Linux beta.
This article is comparing twelve recent NVIDIA and AMD graphics cards when using these latest binary drivers on Ubuntu 14.10 64-bit. All tests were done on an Intel Core i7 5960X system. The tested graphics cards were:
- NVIDIA GeForce GTX 680 2048MB (1006/3004MHz)
- NVIDIA GeForce GTX 750 Ti 2048MB (1019/2700MHz)
- NVIDIA GeForce GTX 760 2048MB (980/3004MHz)
- NVIDIA GeForce GTX 780 Ti 3072MB (875/3500MHz)
- eVGA NVIDIA GeForce GTX 970 4096MB (1163/3505MHz)
- NVIDIA GeForce GTX 980 4096MB (1126/3505MHz)
- Sapphire AMD Radeon HD 6870 1024MB (900/1050MHz)
- ASUS AMD Radeon HD 7850 1024MB (860/1200MHz)
- XFX AMD Radeon HD 7950 3072MB (900/1375MHz)
- AMD Radeon R9 270X 2048MB (1100/1400MHz)
- AMD Radeon R9 285 2048MB (918/1375MHz)
- AMD Radeon R9 290 4096MB (947/1250MHz)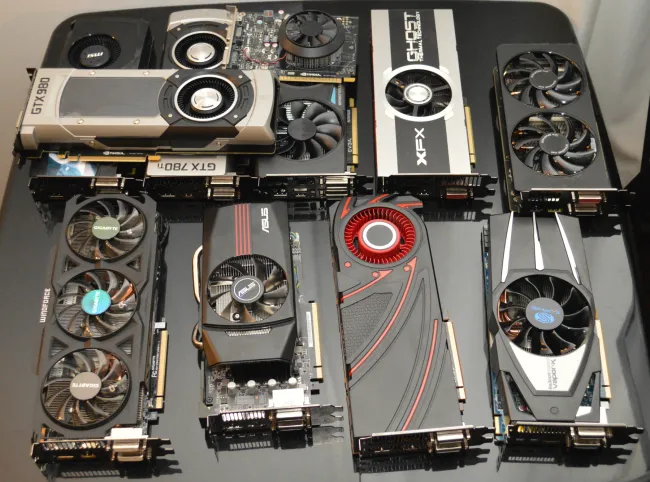 Both drivers expose OpenGL 4.4 support. OpenCL compute benchmarks using the Catalyst 14.12 (fglrx 14.50.2) and NVIDIA 346.22 Beta will come in a future article. There's also new open vs. closed-source graphics driver results coming shortly. With the end of the year coming are also our year-end reviews of re-testing all driver releases of the year for a nice comparison to see how the performance and features have evolved.
All of the benchmarks in this article were facilitated in a fully-automated and reproducible manner using the open-source Phoronix Test Suite benchmarking software.