Intel vs. Radeon vs. Nouveau On Linux 3.15 + Mesa 10.3-devel
The latest Linux graphics we have to benchmark at Phoronix are from a spectrum of Intel HD Graphics, AMD Radeon, and NVIDIA GeForce graphics when testing the latest open-source GPU drivers found with the in-development Linux 3.15 kernel and Mesa 10.3-devel.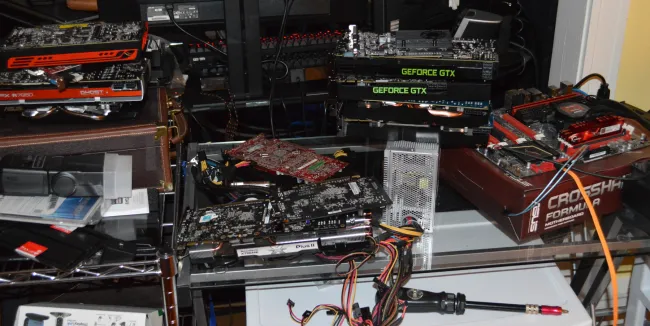 The graphics processors being tested for this up-to-date look at the three major open-source Linux graphics drivers include:
- AMD Radeon HD 5770
- AMD Radeon HD 5830
- AMD Radeon HD 6870
- AMD Radeon HD 6950
- NVIDIA GeForce 9800GTX
- NVIDIA GeForce GT 520
- NVIDIA GeForce GTX 760
- Intel HD Graphics 4600
The hardware for today's comparison was limited by running into an above-average number of regressions within the Radeon and Nouveau drivers at this stage in the Linux kernel development cycle. For the AMD hardware the newer "GCN" hardware was problematic and ultimately none of those graphics cards successfully finished our array of OpenGL benchmarks. The current AMD problems are outlined within Newer AMD Radeon GPUs Have Had A Tough Time With Linux 3.15. Open-source AMD developers are currently work to address these issues but at the time of testing they hadn't yet successfully mainlined any of the necessary fixes.
On the NVIDIA side with the community-maintained, reverse-engineered Nouveau graphics driver, it was another round of Russian Roulette. Re-clocking is still not found out-of-the-box with the Nouveau DRM driver with the Linux 3.15 kernel, which means most graphics cards are running at their (slower) boot clock frequencies and thus severely hampers the graphics card performance. Aside from the lack of re-clocking, PGRAPH issues generated from the Nouveau DRM driver with various NVIDIA GPUs and overall stability problems limited the GeForce graphics cards that could be tested.
Once these issues are worked out, additional Linux graphics card tests will come forward on Phoronix, as usual. With these open-source results complete, I'm also in the process of complementing them with benchmarks from the proprietary AMD Catalyst and NVIDIA Linux graphics drivers. After those articles, I'll be going a step further and compare them against the latest Microsoft Windows 8.1 drivers. If you appreciate all of this testing done exclusively on Phoronix.com that's all done nearly single handedly, please subscribe to Phoronix Premium.
On the following pages are these open-source graphics results from the Linux 3.15 kernel from a few days ago while running Ubuntu 14.04 LTS x86_64 and using the Oibaf PPA for Mesa 10.3-devel git-155f98d, xf86-video-ati 7.3.99, xf86-video-nouveau 1.0.10, and xf86-video-intel 2.99.911. All benchmarking was fully automated using the Phoronix Test Suite.