A One Year Redux On The Basement Computer Room For Benchmarking 50+ Systems Daily
It was just over one year ago that I wrote about turning a basement into a big Linux server room (and then the six month redux). With having just finished tiling the floor and making some other modifications, here is a one-year look at the project where there are more than fifty systems running Linux/open-source benchmarks daily as part of Phoronix, OpenBenchmarking.org, and LinuxBenchmarking.com, among other Phoronix Media efforts for enriching the Linux hardware experience.
Prior to starting the project a year ago what would become this server room looked like:
Then after doing all of the work outlined in the original article it tuned out like this:
The original work involved upgrading the electrical to having four 20 Amp circuits, dropping Ethernet and HDMI cabling behind the walls, adding new lighting, drywalling the walls and ceiling, adding a laminate flooring, building a bar, and other small changes. Now here's the latest incarnation: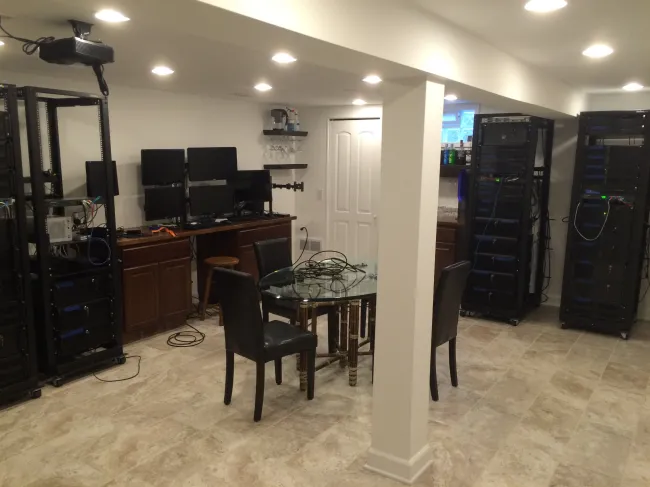 The system count is slightly lower due to getting rid of some older systems from the daily testing process to save on electrical costs, not using many laptops anymore for the daily benchmarking process, etc. There was also the recent changing of the laminate flooring to a porcelain tile for greater durability, wiser choice for a basement, and potential thermal improvements. There was also the consolidating of the different keyboard/video/monitor setups around the room all into one central, large desk.