Kaby Lake HD Graphics 630 Appear To Be Coming Up Short On Linux
One would think the graphics of a Core i5 7600K "Kaby Lake" processor would be faster than the Core i5 6600K "Skylake" or even a Core i5 6500, but that's not always the case with the current state of the Linux driver support for the newest-generation Intel hardware.
A few days ago I wrote about the poor P-State performance with Kaby Lake for this Core i5 7600K CPU I bought last week. When running graphics tests, the performance with Mesa 13.1-devel Git + Linux 4.10 has also been rather disappointing. Even if switching over to CPUFreq with its performance governor, it still isn't running faster than its previous-generation brother, the 6600K.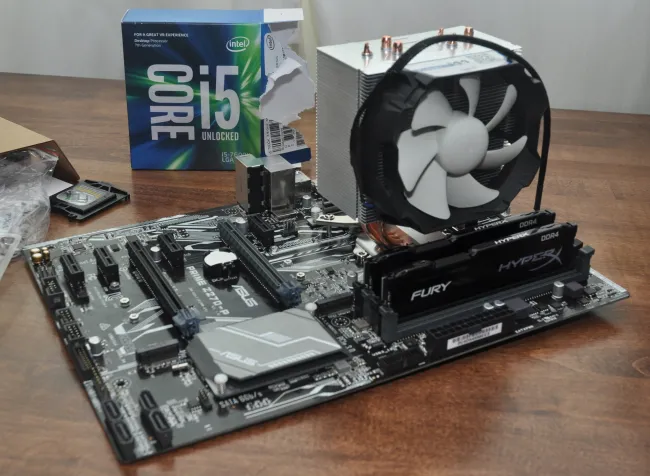 That's with the system built around an ASUS Z270-P motherboard, the very latest BIOS, dual channel DDR4-2400 memory with XMP profile enabled, and ensuring everything else is in good shape. Similar to some past generations of Intel hardware launches, the Linux support at the moment doesn't appear to be quite up to scratch. This isn't even with the stock Ubuntu 16.10 experience but rather when using Mesa Git from the Padoka PPA and the Linux 4.10 Git kernel as the latest mainline code.
I compared my fresh Kaby Lake OpenGL and Vulkan benchmark results to the recent Intel IvyBridge/Haswell/Broadwell/Skylake OpenGL & Vulkan Benchmarks On Linux 4.10 + Mesa 13.1 article. As a refresher, the Core i5 7600K is a quad-core part with 3.8GHz base frequency, 4.2GHz turbo, and sports HD Graphics 630. The HD Graphics 630 on this i5-7600K clock up to 1.15GHz. This processor should be performing better than the i5-6600K quad-core that has a 3.5GHz base, 3.9GHz turbo, and HD Graphics 530 that clock up to 1.15GHz. Or also in these benchmarks is the Core i5 6500 with its HD Graphics 530 only clocking up to 1.05GHz.