OpenGL vs. Vulkan With Intel Kabylake On Linux 4.12 + Mesa 17.2-dev
It's been a while since delivering any fresh comparison of Intel's open-source OpenGL and Vulkan Linux graphics drivers, so for your viewing pleasure this Friday, here is a fresh comparison while making use of the Linux 4.12 development kernel and Mesa 17.2-dev.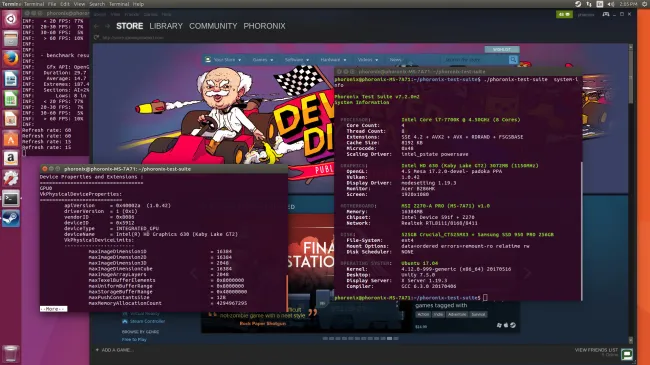 With the Intel Core i7 7700K "Kabylake" test system and its HD Graphics 630, some fresh ANV Vulkan vs. i965 Mesa DRI driver comparison tests were done. Mesa 17.2-dev was as of this week using the Padoka PPA on Ubuntu 17.04 x86_64. The Linux OpenGL vs. Vulkan gaming test cases were Dota 2, Talos Principle, and Serious Sam Fusion 2017.
All of these benchmarks were automated in a fully-reproducible manner using the open-source Phoronix Test Suite benchmarking software.