Intel Core i5 750, Core i7 870 Linux Benchmarks
Our Lynnfield test system consisted of the Intel Core i5 750 and Core i7 870 processors, an Intel DP55KG (P55) motherboard, 2GB of OCZ DDR3-1333MHz memory, a 64GB OCZ Vertex SSD, and a NVIDIA GeForce 9800GTX 512MB graphics card. With the notes from our Intel P55 article, we used Ubuntu 9.10 Alpha 5 (x86_64) with the Linux 2.6.31 kernel, GNOME 2.27.91, X Server 1.6.3, NVIDIA 190.25 display driver, GCC 4.4.1, and an EXT4 file-system.
Our Linux benchmarking of Lynnfield was done when the Core i5 750 was clocked at 2.66GHz and when the Core i7 870 was running at its stock speed of 2.93GHz. Intel Turbo Boost Technology was disabled during our testing due to the aforementioned problems. When it came to overclocking these two processors we were able to push the i5 750 easily past 3.4GHz and the i7 870 to 3.8GHz, but the time we spent overclocking was rather limited due to our core focus on the Linux performance and not having much time prior to today's Lynnfield launch. In forthcoming reviews of P55 motherboards and other articles we will cover Lynnfield overclocking in more detail. It is no question that the Lynnfield CPUs should be able to overclock very well and similar to their Bloomfield siblings.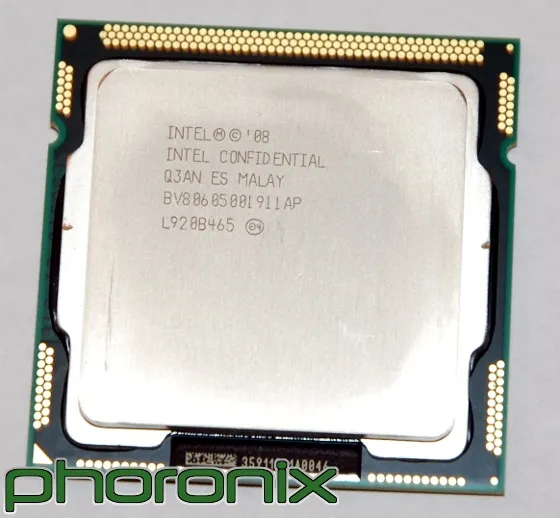 For a comparison to the Core i5 750 / Core i7 870 we re-tested an Intel Core i7 920 @ 2.66GHz system as well as an AMD Phenom II X3 710 @ 2.60GHz system. The Core i7 920 system was built around an ASRock X58 Super Computer motherboard with the same GeForce 9800GTX graphics card and OCZ Vertex SSD. However, rather than using the same 2GB of DDR2 memory, we used 3GB of CSX DDR3 memory running at DDR3-1333MHz speeds in order to take advantage of the Core i7 900 series triple channel memory controller. The AMD Phenom II X3 710 system (due to available hardware on hand) was made up of an ASRock M3A780GXH/128M motherboard, 2GB of OCZ DDR3-1333MHz memory, an OCZ 64GB OCZ Vertex SSD, and a GeForce 9800GTX graphics card. The software configuration between the three systems was maintained the same.
All of this processor testing was driven by the Phoronix Test Suite where we ran Nexuiz, World of Padman, GraphicsMagick, John The Ripper, LAME MP3 encoding, FLAC audio encoding, OpenSSL, PostgreSQL pgbench, Apache benchmark, C-Ray, POV-Ray, Tachyon, Crafty, TSCP, timed MAFFT alignment, NAS Parallel Benchmarks, and Stream. On the following page is the cpuinfo output for the two processors under Linux followed by these Linux test results for the Lynnfield-based Core i5 750 and Core i7 870.