We Rely On Your Support: This site is primarily supported by advertisements.

Ads are what have allowed this site to be maintained for the past 16 years.

We do our best to ensure only clean, relevant ads are shown, when any nasty ads are detected, we work to remove them ASAP. If you would like to view the site without ads while still supporting our work, please consider our ad-free Phoronix Premium. You can also consider a tip via PayPal.
Intel Core i7 4960X Linux Performance
As I mentioned already, it was smooth sailing running the $1000 USD Intel Core i7 4960X Extreme Edition processor under Linux. The results being shared in this review were from an installation of Ubuntu 13.10 with the Linux 3.11 kernel and the GCC 4.8.1 compiler. However, I've also tested the Core i7 4960X with an MSI X79 motherboard on various other popular Linux distributions. Given the mature X79 support status and this new CPU being IvyBridge-based, there weren't any Linux hardware issues.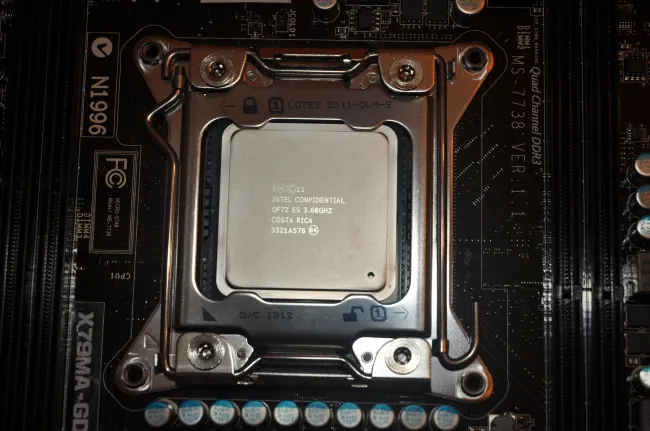 For the benchmarks in this article, I compared the Core i7 4960X performance to a variety of other AMD and Intel processors in my possession -- spanning low, mid, and high-end SKUs. It's a bit insane comparing the Core i7 Extreme Edition CPUs to a Core i3, but hey, we love performance benchmarking and the process is fully automated and made trivial via the Phoronix Test Suite! The other test CPUs included the:
- AMD FX-8350 "Bulldozer 2"
- Intel Core i3 2120 "Sandy Bridge"
- Intel Core i5 2400S "Sandy Bridge"
- Intel Core i5 2500K "Sandy Bridge"
- Intel Core i5 3470 "Ivy Bridge"
- Intel Core i7 3770K "Ivy Bridge"
- Intel Core i7 3960X "Sandy Bridge Extreme"
- Intel Core i7 4770K "Haswell"
These CPUs were all running with their stock frequencies. Where applicable, the same 8GB of DDR3 system memory, 240GB OCZ Vertex 3 SSD, and AMD Radeon HD 4870 graphics card (since we're not running any gaming tests in this article and the RV770 has nice open-source driver support) were maintained throughout all of the different test systems. All of these systems were also running the same Ubuntu 13.10 build with the Linux 3.11 x86_64 kernel and GCC 4.8.1 compiler. All of the benchmarks in this article were built from source on each system.
In terms of overclocking the Intel Core i7 4960X EE that's at 3.6GHz with 4.0GHz Turbo, while overclocking isn't our main focus at Phoronix, it was easy to run her at 4.3GHz. With changing the multiplier and setting the CPU voltage to 1.35V, the six-core processor was stable and running fine. We were able to hit 4.4GHz but then there were some stability issues. The benchmark results in this article show the CPU at both its stock and overclocked speeds.
Besides the Linux CPU comparison results shown in this article, the Core i7 4960X will also be used in many other reviews to come on Phoronix. In a lead-up to this review I already published some i7-4960X results but many more are coming. As usual whenever getting a new and exciting processor at Phoronix, there will be new virtualization benchmarks, compiler comparisons, kernel testing, and other enthusiast-related benchmarks off the new speed demon. You can also monitor for new benchmarks via Intel Core i7 4960X on OpenBenchmarking.org for public test results.
For those curious about the Linux CPU information on the processor, the system logs on OpenBenchmarking.org has the i7-4960X /proc/cpuinfo. All benchmarking for this review was handled in a fully automated and completely reproducible manner using the enterprise-supported open-source Phoronix Test Suite software.