A First Look At The Intel Broadwell NUC Kit
Cooling the 15 Watt Broadwell processor is a small heatsink fan that's exposed when taking out the PCB mainboard from the chassis.
When it comes to OS compatibility, Intel advertises this NUC as being supported by Ubuntu, Linux Mint, Fedora, and openSUSE. Of course, we'll leave it up to our testing to see how the Linux support really is, but should pan out fine given the good Broadwell experience already with the ThinkPad and my older Haswell/BayTrail NUCs doing fine with Linux.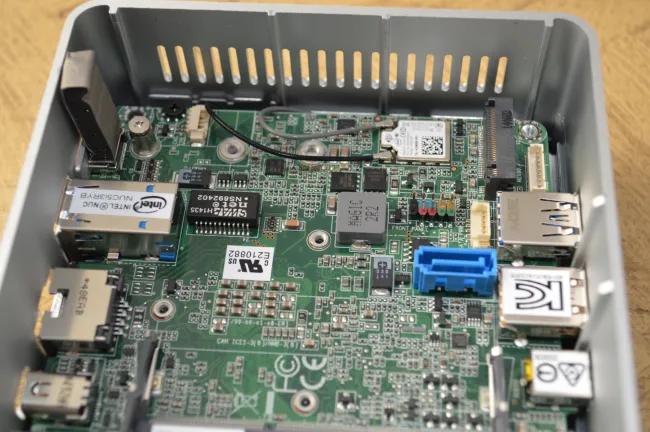 Current pricing on the BOXNUC5I3RYH puts it at around $330 USD, which makes it much pricier than some of the lower-end NUCs, but it's packing a decent amount of compute power with the i3-5010U while being very power efficient. Stay tuned for plenty of Linux tests from this Intel Broadwell NUC in the days to come along with any compatibility/support troubles I run into with this Intel NUC on popular Linux distributions.
For those anxious to buy this Core i3 NUC without waiting for the Linux results if you're really after a Broadwell system right away, you can find it at Amazon.com.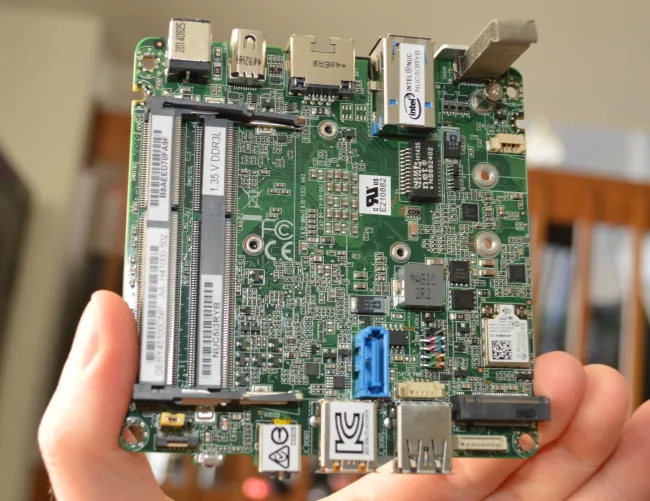 If you appreciate all of the Linux hardware testing done at Phoronix.com especially with these many Broadwell tests already while numerous Windows sites haven't even delivered Broadwell numbers yet, please consider subscribing to Phoronix Premium or making a PayPal tip (and support our advertisers) to allow this Linux hardware open-source testing to continue. Follow us on Facebook and Twitter to stay up-to-date with the latest Intel Broadwell Linux benchmarks.
If you enjoyed this article consider joining Phoronix Premium to view this site ad-free, multi-page articles on a single page, and other benefits. PayPal tips are also graciously accepted. Thanks for your support.