Intel Xeon Scalable "Cascade Lake" Processors Launch - Initial Xeon Platinum 8280 Linux Benchmarks
With the Intel Xeon Platinum 8280 benchmarking that began at Phoronix last week, we've been testing these Cascade Lake processors with the Gigabyte S451-3R0 server. This storage-focused server platform is 4U and has large heatsinks for ensuring sufficient cooling of these high-end Xeon Scalable 2nd Gen processors. With a simple BIOS update, the Gigabyte S451-3R0 has been working out great with these new processors.
The Gigabyte S451-3R0 supports thirty-six SATA/SAS HDD/SSD bays, two 2.5-inch SATA bays, dual 1200 Watt 80 PLUS power supplies, dual 10Gb/s SFP+ and dual Gigabit Ethernet network connections, and all-around is a very capable Xeon Scalable server platform.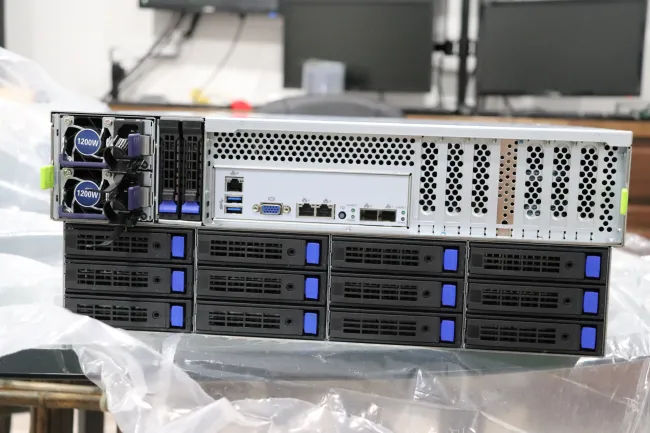 In the coming days will be our complete review of the Gigabyte S451-3R0 along with continued Cascade Lake Linux benchmarks of different Linux distributions, the various BSDs, and likely some figures against Windows Server 2019. Overall though this Gigabyte Storage Server has been working out great in conjunction with the dual Xeon Platinum 8280 processors and 12 x DDR4-2933 DIMMs.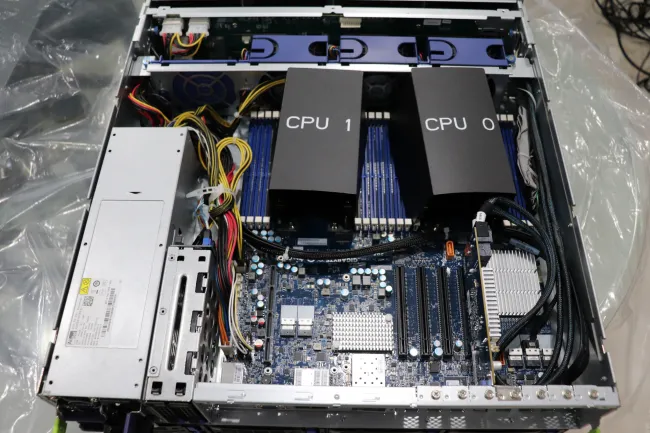 For this initial Xeon Platinum Cascade Lake benchmarking, the 8280s and various other server CPUs I had available were tested including:
- AMD EPYC 7551 (32 cores / 64 threads, 2.0GHz base, 3.0GHz turbo, $3618 USD)
- AMD EPYC 7601 (32 cores / 64 threads, 2.2GHz base, 3.2GHz turbo, $4464 USD)
- 2 x AMD EPYC 7601 (64 cores / 128 threads, 2.2GHz base, 3.2GHz turbo, $8929 USD)
- 2 x Intel Xeon Gold 6138 (40 cores / 80 threads, 2.0GHz base, 3.7GHz turbo, $5538 USD)
- Intel Xeon Platinum 8280 (28 cores / 56 threads, 2.7GHz base, 4.0GHz turbo, $10009 USD)
- 2 x Intel Xeon Platinum 8280 (56 cores / 112 threads, 2.7GHz base, 4.0GHz turbo, $20018 USD)
- 2 x IBM POWER9 22-core CPUs (combined 44 cores / 176 threads, 3.80GHz, $5250 USD)
Each system was running with memory at its optimal frequency/channel configuration and running with a Samsung 850 SATA SSD with Ubuntu 18.04 LTS and running the Linux 5.0 stable kernel with a GCC 9.0.1 development snapshot in order to benefit from the latest compiler support, including the Cascade Lake support. On each platform the CFLAGS/CXXFLAGS were "-O3 -march=native" (or "-mcpu=power9 -mtune=power9" in the case of IBM POWER9) and binaries freshly built for each target.
So far my testing of the Xeon Platinum Cascade Lake processors has been predominantly with Ubuntu 18.04 LTS but over the days ahead I am testing more Linux distributions and the BSDs. At least with Ubuntu 18.04 LTS, the Linux support has all been in order but not too surprising considering the Lewisburg chipset is sticking around and especially for servers/workstations but even desktops/laptops, Intel is known for great launch day Linux support. About the only sad point to the support is that the "cascadelake" targeting with AVX-512 VNNI for the common GCC compiler isn't officially released for a few more weeks let alone appearing in distributions as the default compiler. Intel normally gets their new CPU support into the GNU Compiler Collection a year or more ahead of launch in order to align with the annual GCC releases, but for Cascade Lake support that only arrived months ago. GCC 9.1 should be out around the end of April or early May with this official support, but even still using the GCC 8 compiler will work fine just that AVX-512 VNNI won't be flipped on under "-march=native" and the like.
Ubuntu 18.04.2 LTS ships with the Linux 4.18 kernel and I've tried 4.18/4.19/5.0/5.1 Git kernels without any issues. Long story short, if you are on a newer/enterprise Linux distribution the Cascade Lake support should be in good shape and I'll have more details and any other caveats in articles over the days ahead.