New Volume Control Interface For GNOME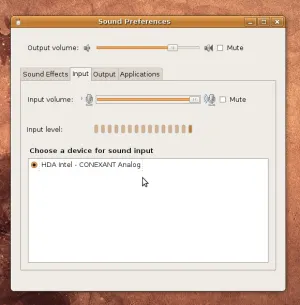 On the input tab is a volume control for the input volume (along with the ability to mute the channel), an indicator of the input volume level, and the ability to choose between multiple sound input devices. The volume level indicator is adjusted in real-time.
From the output tab is the ability to choose a sound output device and then adjust its balance between the left and right channels.
Lastly, there is the applications tab. From here, as games, programs, or other software packages are outputting sound, they are automatically listed in this area. The name of the program is shown along with its program icon and there is the ability to adjust the volume level on a per-application basis. The sound from a particular application can also be muted.
The about covers the new sound capabilities for GNOME on the interface level. We are continuing our testing of this new work in both Ubuntu 9.04 and Fedora 11 Rawhide and we will be back with more shortly. Share your thoughts on this improved sound support in the Phoronix Forums.