We Rely On Your Support: Did you know that you can get Phoronix Premium for under $3 per month? Try it today to view our site

ad-free, multi-page articles on a single page, and more

while the proceeds allow us to write more Linux hardware reviews.
A New, Easy To Use Disk Formatter For GNOME
GParted is an excellent GNOME program for editing partitions, changing file-systems, and performing related disk tasks. However, GParted is not exactly the ideal program for new Linux users to familiarize themselves with if all they want to do is format a USB drive or external storage device. Fortunately, a new GNOME utility has come about that supersedes GFloppy and is designed to be a simple yet powerful disk formatting utility. In this article we are taking an introductory look at GNOME Format.
The initial release of GNOME Format occurred just this week and it pledges to be "a tool to easily format (erase and initialize) external memory media like USB sticks or SD/MMC flash cards for your PC." GNOME Format features a very simple GUI and integration with HAL for automatically detecting new storage devices. While the utility is quite simple and easy to use, it does additionally offer an option of setting up a LUKS encrypted partition for better securing sensitive data.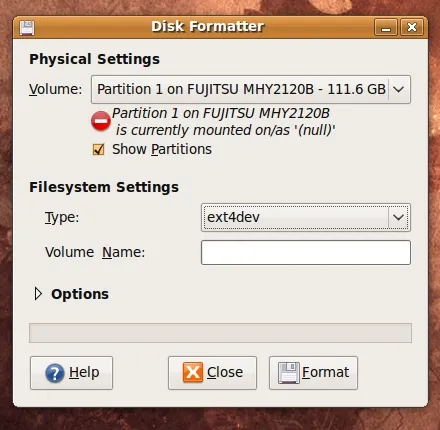 The GNOME Format utility has very few options except for the essentials. The first drop-down menu allows selecting the device to format whether it be a USB flash drive, a Secure Digital card, an external hard drive, or even an internal disk drive. If the drive already has more than one partition, the user can manually select which partition they would like to re-format from a sub-menu.