2012 GNOME User Survey Results
When comparing feelings of GNOME 3 relative to GNOME 2, most of the respondents felt the desktop is "definitely worse" than its predecessor. There were 1758 responses saying its definitely worse while 1486 thought it was definitely an improvement and then 1052 weren't strongly sided on their position of GNOME 3.x.
While many felt that GNOME 3.x is definitely worse than GNOME 2.x, many people remained mostly or halfway content with their satisfaction of the modern GNOME desktop.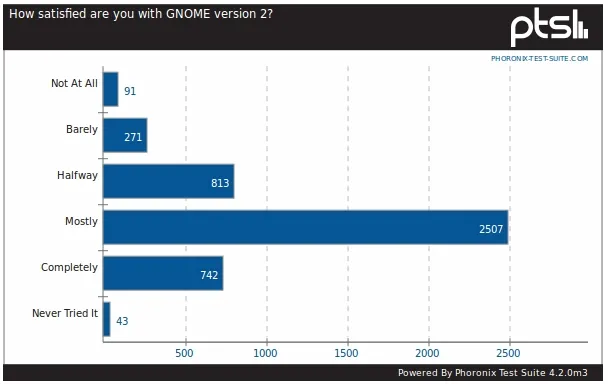 Far more people though were enthusiastic in their satisfaction for GNOME 2.x.
The respondents definitely desire more configuration options for GNOME, bringing back the traditional interface, improving the Nautilus file-manager, and for the GNOME developers to listen to users.
At least GNOME is moving forward with most people feeling that GNOME is now better than it was one year ago.