A Look At The Changes & New Features Of GNOME 3.24
GNOME 3.24 in general has seen a lot of polishing and minor enhancements to its many components.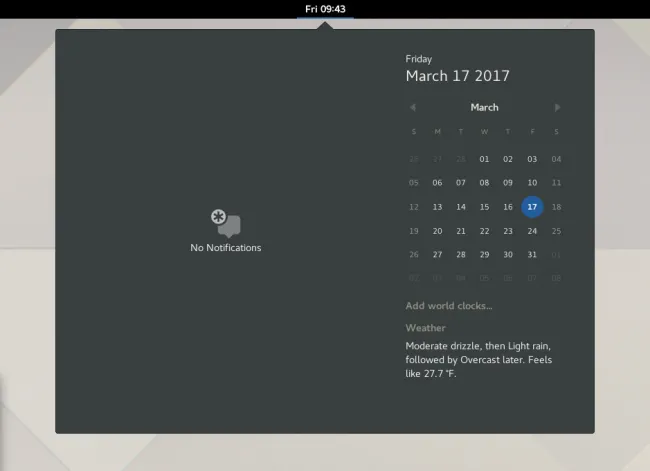 There have been some improvements to notifications, improved drag-and-drop on Wayland, weather information was added to the date/time drop-down, security indicators added to portals, a night light indicator in the status area (the aforementioned Night Light mode), a kill switch for user extensions, better PRIME / multi-GPU support when launching applications and wanting to run on the discrete GPU, and a variety of other enhancements were made to GNOME Shell 3.24.
GNOME Builder had a lot of work this cycle for GNOME 3.24. GNOME Builder 3.24 features greater Flatpak support, including the ability for exporting an App.flatpak and Meson improvements under Flatpak, among other work for this app sandboxing tech. There are also improvements around dependencies, support for building with the CMake and Ninja build system, rewritten plugins for the build pipeline, Vim emulation improvements, a new "beautifier" plugin, support for semantic spell-checking, a Valgrind plugin for tracking memory leaks, and many fixes.
And the overall Wayland support appears to be in great shape. I was running the GNOME 3.24 near-final packages on Fedora Rawhide under Wayland and haven't run into any glaring issues. I also continue using GNOME Wayland on my main desktop.
GNOME 3.24.0 is expected to be officially released on 22 March. If I missed any interesting changes of GNOME 3.24, let us know in the forums. Will you be upgrading? What's your favorite feature? Let us know as well in the forums.
If you enjoyed this article consider joining Phoronix Premium to view this site ad-free, multi-page articles on a single page, and other benefits. PayPal tips are also graciously accepted. Thanks for your support.