Running FreeBSD 12, TrueOS On AMD EPYC
Back in October I did some basic tests of the BSDs on AMD EPYC while now with having more of our extensive Linux testing of AMD EPYC complete, I went back and did a few fresh tests of the BSDs with an AMD EPYC 7601 processor housed within the Tyan Transport SX TN70A-B8026.
Those initial EPYC BSD tests included DragonFlyBSD 4.8, TrueOS, and FreeBSD 11.1. Back in October when trying the release candidate at the time for DragonFlyBSD 5.0, the system would begin to boot but immediately would restart. That was an issue I've also encountered with DragonFlyBSD 5 on other (non-EPYC) systems. Sadly, when even using the brand new DragonFlyBSD 5.0.2 bug fix release, this issue is still happening. So unfortunately DragonFlyBSD 5.0 isn't running though in my previous testing, DragonFlyBSD 4.8 doesn't suffer from this problem.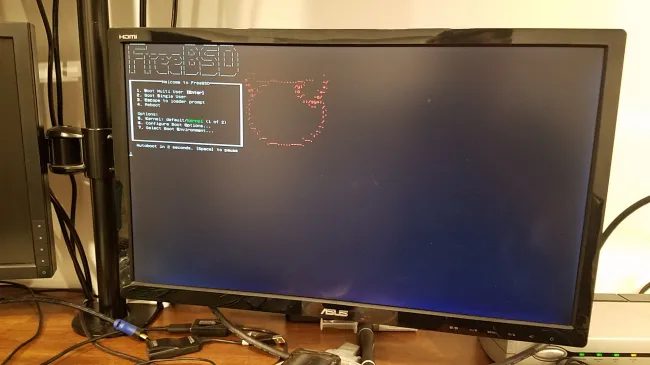 When it comes to FreeBSD testing, FreeBSD 11.1 does work on the AMD EPYC processor and Tyan 2U server as outlined previously. Previous tests were done with a SATA 3.0 SSD and Corsair Force MP500 NVMe SSD. Since the previous tests, I put the Intel Optane SSD 900P drive into this EPYC + Tyan Transport server. Unfortunately, FreeBSD 11.1 doesn't support this drive: the USB-based installation was a success, but when booting FreeBSD 11.1, the kernel would hang indefinitely on the NVMe driver.
Fortunately, FreeBSD 12-CURRENT is working fine. For FreeBSD 12.0-CURRENT I used their AMD64 snapshot from 30 November 2017 and it's been running smoothly on the AMD EPYC platform with their latest kernel bits and is also using the Clang 5.0 compiler. No problems to report on that next major FreeBSD release with EPYC.
I've also re-tested TrueOS on this AMD EPYC server and it too is running fine. TrueOS Unstable 2017-11-14 is based off FreeBSD 12.0-CURRENT and to no real surprise as a result, there are not any hardware compatibility issues I've yet encountered with this system configuration.
While having these BSD installations around, I did take the time to carry out a couple of BSD benchmarks. I also compared those numbers where supported to the latest Ubuntu 18.04 LTS daily ISO, Clear Linux, and openSUSE Tumbleweed.