Updated Fedora 20 KDE Stack: Something's Funky
One month ago we looked at the latest performance of Fedora 20, but with its more liberal update strategy -- especially with the long release time until Fedora 21 -- we're back with some more tests today as since last month the Linux 3.14 kernel has been added and other changes. This article has benchmarks of the Fedora 20 KDE spin out-of-the-box and then with all available updates as of this week to see how the performance has evolved in the half-year since the F20 release.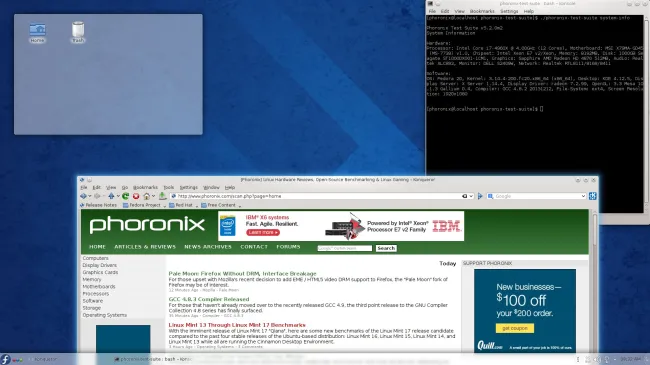 From an Intel Core i7 4960X Extreme Edition system with Radeon HD 4870 graphics, 8GB of DDR3 system memory, and MSI X79MA-GD45 motherboard, I ran a series of tests of Fedora 20 KDE immediately after it was cleanly installed and then with all updates as of 21 May 2014. Some of the key package components bumped in the stable upgrade process were moving from the Linux 3.11 kernel to Linux 3.14, KDE 4.11.3 to KDE 4.12.5, and Mesa 9.2.3 to Mesa 10.1.3. The Mesa upgrade for Radeon users also now means open-source OpenGL 3.3 support over OpenGL 3.1. No hardware (the CPU frequency differences on the auto-generated table come from the CPU frequency scaling governor default changing in the newer kernel to now report the Turbo Frequency rather than the i7-4970X base frequency) or settings changes were made between the independent test runs.
So for those curious about the impact of running Fedora 20 KDE now with the Linux 3.14 kernel, etc, here's some benchmarks for reference purposes. All tests were done using the open-source Phoronix Test Suite benchmarking software.