Fedora 22 KDE Delivers A Great Plasma 5 Experience
One of this author's favorite new features of System Settings is the new Look'N'Feel packages. Look'N'Feel packages are basically meta-packages that are defined presets for how things are. They can specify icon packs, emoticons, workspace themes, application themes, window borders, desktop background and more. In the default Fedora 22 install there are two Look'N'Feel packages: "Fedora 22" if you want the Fedora-inspired look, or "Breeze" the default Plasma 5.3 look for a more 'upstream' appearance.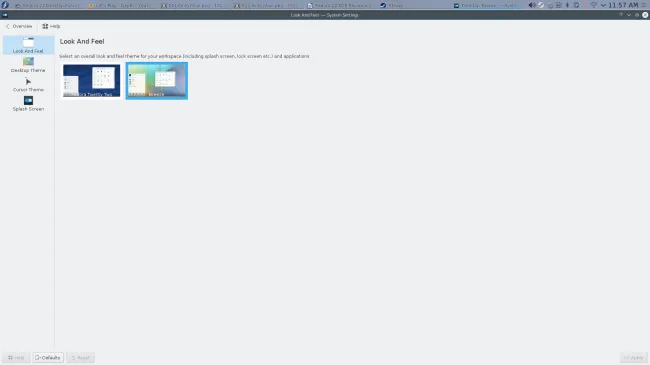 One of the few applications in KDE-land that got a significant update for Plasma 5 is KinfoCenter. KinfoCenter's new start page is far more concise than it was previously. Additionally KinfoCenter gained a new Energy Usage component. The Energy Usage component is in pretty rough shape right now, having just been released, but it is functional. Some more work on the UX would be nice, as blank buttons aren't very intuitive, but the basic idea is present and functional.
I won't say the experience on Fedora 22 has been perfect, though it has been very nice. Alas, bugs exist in all software.
The battery applet see's both of my Lenovo T450s' batteries as separate in charge, but for "Time Remaining" they total them. Which is rather unfortunate since I can swap the one battery independent of the other. It'd be nice if the system could display "Time Remaining" as separate counters, though I do understand that from a 'simplicity' stand point it is probably correct to total them. The task manager in the panel likewise has a rather habit of turning minimized windows' title text to a shade of grey, which against a slightly darker grey of the panel makes it basically unreadable.
The system tray dropped support for old xembed systray icons, the solution being to install libappindicator (for gtk apps) or sni-qt (for Qt apps) but even then wine doesn't integrate properly, nor does Mirall, the ownCloud Client.
KDE doesn't seem to remember the setting "Suspend the compositor for fullscreen applications" as I am constantly having to recheck it.
Also Fedora doesn't ship the new User KCM, giving KDE users the ability to control, and create Users and Groups from System Settings, which is a bit of a shame.
Likewise there is no word on when Muon will replace Apper as the preferred KDE Software Center.
Over all I would say the experience under Fedora 22 is a good one though, the hardware accelerated Qt5 desktop is fluid and lag-free. Everything loads up quickly without complaint and works more or less how I would expect it to. The general feel of KDE4, compared to KDE5, is one of visual refinement. Applets, dialog boxes, and notifications are less prone to bugging out or other 'oddities', the system is getting hung up far less than it would under KDE4.x.
Plasma 5, and by extension Fedora 22, are evolutionary upgrades, rather than the revolutionary releases that have occurred in recent years.
Test System:
Lenovo T450s
1920 x1080 15-inch Screen
8GB of RAM
i5-5200U Intel CPU
Samsung 850 EVO 250GB SSD
Kernel: 4.0.4-303
Mesa 10.5.4
Plasma 5.3
If you enjoyed this article consider joining Phoronix Premium to view this site ad-free, multi-page articles on a single page, and other benefits. PayPal tips are also graciously accepted. Thanks for your support.