We Rely On Your Support: Did you know that you can get Phoronix Premium for under $3 per month? Try it today to view our site

ad-free, multi-page articles on a single page, and more

while the proceeds allow us to write more Linux hardware reviews.
Previewing The F22 Alpha Release: Fedora 22 Is In Great Shape
This weekend I spent some time testing the latest Fedora 22 test candidate ahead of tomorrow's Fedora 22 Alpha release. Overall the experience was very good and I'm very excited for the official Fedora 22 release in May. I felt Fedora 21 was the best release yet and switched to running it on my most critical production system while now Fedora 22 is set to beat out its previous release.
Fedora 22 feels very clean and an evolutionary step over Fedora 21. The many GNOME 3.16 changes throughout the default desktop are very nice while KDE Fedora users will have Plasma 5 by default.
Fedora 22 is the first major Linux distribution shipping with (a currently pre-release) GCC 5.0 and the many major compiler improvements done to the GNU compiler stack over the past year.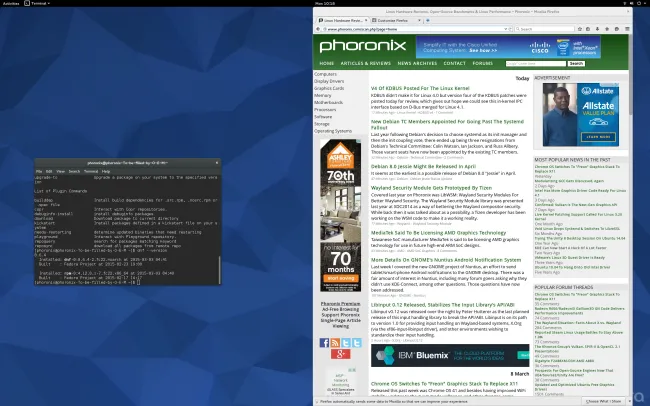 DNF is set to replace Yum as the default package manager on Fedora 22. On my F22 installation, DNF was installed by default as it's been now for some Fedora releases already, but it wasn't yet becoming the default link from yum.
GNOME 3.16 brings notification improvements, UI work to many common GNOME applications, and other desktop enhancements.
Nautilus received a fair amount of work during the GNOME 3.16 cycle. GNOME 3.16 will be officially released later this month.