We Rely On Your Support: Have you heard of Phoronix Premium? It's what complements advertisements on this site for our premium ad-free service. For as little as $3 USD per month, you can help support our site while the funds generated allow us to keep doing Linux hardware reviews, performance benchmarking, maintain our community forums, and much more. You can also consider a tip via PayPal.
BIOS:
The ECS P67H2-A2 motherboard does not have some sophisticated UEFI setup like many of the other Sandy Bridge motherboards, but rather just depends upon American Megatrends Inc and their Aptio Setup Utility. It though is full-featured and allows manipulating the CPU ration (on the Sandy Bridge -K CPUs), clock frequency, Turbo Mode, voltages (CPU / IMC / IMS / DIMM / PCB / CPU SA), memory timings, etc. ECS motherboards are not known for great overclocking, but they are good enough to get the job done if you are interested in pushing your system a bit further.
Linux Testing:
It has been over three months since the ECS P67H2-A2 was received and the Sandy Bridge CPUs launched, so what has taken us so long? Well, there was the whole Cougar Point chipset recall from Intel, but this motherboard initially did not like Linux. Everything would install smoothly like the other Intel P67/H67 motherboards we have tested, but its overall performance was just in the gutter. It would perform dramatically slower than the rest, and no one was sure what was happening. In the end though, after re-flashing the BIOS a few times and upgrading to the latest Linux kernel, the performance problems went away.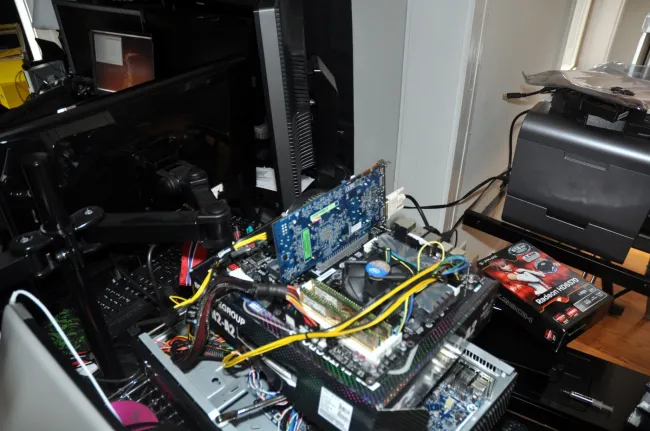 With Ubuntu 10.10 on the Linux 2.6.38/2.6.39 kernel, there are not any issues to report. The installation was clean and all onboard components are functioning. Of course, with the P67 chipset there is not any connectors for using the onboard Sandy Bridge graphics, so there are not any graphics problems to worry about. This motherboard was being tested with an Intel Core i5 2500K CPU, 2GB of DDR3 system memory, 60GB OCZ Vertex 2 SSD, and ATI Radeon HD 4830 graphics. The Linux distribution used was Ubuntu 10.10 x86_64 with a stock package selection except for later upgrading to the latest Linux 2.6.39 kernel code as of 19 April.
Using the Phoronix Test Suite a variety of tests were run to ensure that the ECS P67H2-A2 performance was in line with other Sandy Bridge motherboards such as the ASRock P67 Pro3 and Intel Bearup Lake H67 motherboards. These results plus others are also available on OpenBenchmarking.org.