Eagle Tech Consus USB 2.0 / eSATA External Enclosure
It's not often that we steer away from our graphics card, motherboard, processor, driver, and software benchmarking to look at other products like computer peripherals, but occasionally we are up for it, particularly when it's an offer from a manufacturer we have never heard of before with running their products on Linux. An example of this is Eagle Tech Computers, which is a US-based company that makes a variety of drive enclosures, speakers, and power supplies. Eagle Tech is no SilverStone Technology, but we decided anyways to check out their Consus ET-CS2PESU2-BK, which is a 2.5" external enclosure that offers USB 2.0 and eSATA connectivity.
The Eagle Tech Computers CS2PESU2-BK drive enclosure is only a bit more than one centimeter thick and is composed of aluminum for its chassis, which is nice to see instead of plastic. Another convenient addition to this 2.5" SATA drive enclosure is an integrated USB cable, so you never need to worry about not having a USB mini cable with you as Eagle Tech has you covered. However, there is no eSATA cable integrated into this enclosure, but they do include an attachable cable. Like most 2.5" SATA enclosures, the drive and enclosure can be completely powered off the USB 2.0 or eSATA connection.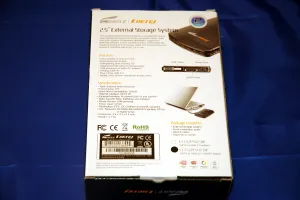 The CS2PESU2-BK is designed for 2.5-inch Serial ATA (1.0 / 2.0) hard drives up to 320GB of capacity. On the Eagle Tech Computers web-site they do mention Linux as one of their supported operating systems, however, they even go as far as mentioning that Microsoft Windows 98 SE and Windows ME are supported by this drive enclosure. Drive enclosures are not usually troublesome on Linux and most end up working just fine whether or not the manufacturer bothers to mention it as being supported.
The Eagle Tech Consus enclosure came well packaged and the contents included the 2.5" drive enclosure itself, a USB 2.0 power cable for the event of your USB connection being low-powered and thus not providing enough power from a single USB port to power the drive or for eSATA power, an eSATA cable, four screws for installing the hard drive, a USB extension cable, a bonus software CD (Windows) and the user's manual, and then a printed copy of the user's manual. This is a pretty normal set of accessories for a Serial ATA drive enclosure, about the only item potentially missing would be a carrying case to make it easy to carry the 2.5" drive enclosure with all of the cables, which some other manufacturers opt to include. However, with the integrated USB 2.0 cable this is less of an issue. Eagle Tech Computers submitted the Consus drive enclosure to Phoronix Media for review.