We Rely On Your Support: Did you know that you can get Phoronix Premium for under $3 per month? Try it today to view our site

ad-free, multi-page articles on a single page, and more

while the proceeds allow us to write more Linux hardware reviews.
Benchmarks & Trying Out DragonFlyBSD 4.8
With DragonFlyBSD 4.8 making its debut yesterday, I was excited to give this updated BSD operating system a try now that it has UEFI support and some performance improvements. Here are some early benchmark results of DragonFlyBSD 4.8 compared to 4.6 and Intel's Clear Linux for some additional reference points.
DragonFlyBSD 4.8 is the first release to officially support UEFI. When booting the USB installer image, sure enough, it was working smoothly and could be installed in either the legacy or UEFI modes.
Trying out the UEFI installation on my Core i7 6800K test system, it worked fine. Great to finally have DragonFlyBSD joining FreeBSD, most Linux distributions, and other OSes in supporting UEFI.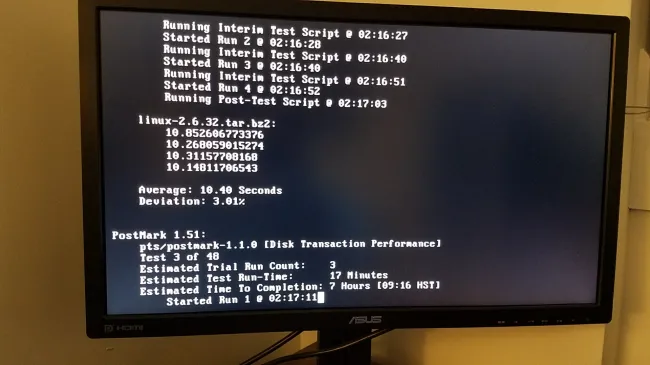 DragonFlyBSD 4.8 features kernel improvements for many-core and multi-socket systems, namecache lookup improvements, exec() enhancements, and other improvements. I used the Intel Core i7 6800K box for all of my initial testing of DragonFly 4.8 for what was available and having 12 threads so can potentially see some improvements. A Samsung 850 EVO SSD was used for testing, MSI X99A WORKSTATION motherboard, and NVIDIA GeForce GTX TITAN X graphics. DragonFlyBSD 4.6.1, DragonFlyBSD 4.8.0, and Clear Linux 14200 were cleanly installed each time on this test system.
These were the results I was able to gather in the past 24 hours. A follow-up article in the days ahead will feature a larger BSD vs. Linux benchmark operating system comparison. All of the BSD/Linux benchmarks are done in a fully-automated manner using the Phoronix Test Suite.