We Rely On Your Support: Did you know that the hundreds of articles written on Phoronix each month are mostly authored by one individual working insane hours? Phoronix.com doesn't have a whole news room with unlimited resources and relies upon people reading our content without blocking ads and alternatively by people subscribing to Phoronix Premium for our ad-free service with other extra features. You can also consider a tip via PayPal.
DragonFlyBSD Continues Squeezing More Performance Out Of AMD's Threadripper 2990WX
DragonFlyBSD 5.4 should be a really great release if you are a BSD user and have an AMD Threadripper 2 box, particularly the flagship Threadripper 2990WX 32-core / 64-thread processor.
The project leader of this long ago fork from FreeBSD, Matthew Dillon, has been quite outspoken about the Threadripper 2990WX since he purchased one earlier this summer. This prolific BSD developer has been praising the performance out of the Threadripper 2990WX since he got the system working on the current DragonFlyBSD 5.3 development builds.
Since getting DragonFlyBSD running on the Threadripper 2 hardware in August, he's routinely been making performance tuning optimizations to DragonFly's kernel to benefit the 2990WX given its NUMA design.
Just earlier this week he landed another NUMA optimization where by reducing the NUMA memory contention he was able to help his kernel's build speed improve by about 8%.
Given the excitement over Threadripper 2 and Matthew Dillon's continued optimizations, I ran some benchmarks to see where the performance is currently at with the latest daily image of DragonFlyBSD 5.3-DEVEL for what will eventually be released as DragonFlyBSD 5.4.0 stable.
I compared these performance results on the same system to some DragonFlyBSD 5.3 snapshots I did back in August when he initially added the Threadripper 2 support and following some early performance optimizations. Since August has been more performance tuning as well as upgrading the default GCC compiler, continued work on its HAMMER2 file-system, and much more as shared routinely with our DragonFlyBSD coverage on Phoronix. Obviously DragonFlyBSD 5.2 (the current stable release) couldn't be tested for this comparison since the X399 + Threadripper 2 has only been working on the 5.3 development series.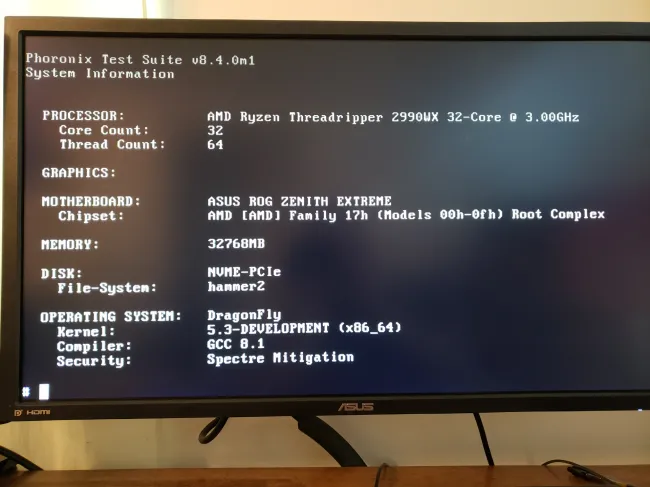 The system used the entire time was the AMD Threadripper 2990WX running at stock speeds on the ASUS ROG ZENITH EXTREME motherboard, 4 x 8GB DDR4-3200 memory, and Samsung 970 EVO NVMe SSD. Benchmarks were carried out in a fully-automated and reproducible manner using the Phoronix Test Suite.