Deus Ex: Mankind Divided NVIDIA Linux Benchmarks - 13-Way GPU Comparison
Just a few months after the Windows release of Deus Ex: Mankind Divided, the Linux port to OpenGL carried out by Feral Interactive was released this morning. Here are many different GPU benchmarks of Deus Ex: Mankind Divded if you are wondering whether or not your system will perform well with this game under Linux, given that the requirements are stiffer than the Windows build. For this launch-day comparison are thirteen NVIDIA GeForce graphics cards tested. The AMD Radeon cards were left to rest this time around since the current open-source Mesa stack struggles currently for this game and is not officially supported yet by Feral.
As usual, even with AAA Linux game launches, prior to even firing up the game on download my first step is poking at the binary to know if it looks like it will be friendly towards my automated and reproducible benchmarking requirements... Deus Ex: Mankind Divided is known to have good benchmark capabilities under Windows, but with Feral Interactive ports we have seen in the past sometimes the benchmark functionality is not ported over or buggy.
Thus the first exciting sign were finding references to "-benchmark" and other strings about benchmark statistics, etc.
When passing "-benchmark" to DeusExMD, sure enough the benchmark mode fired up from the command-line without having to manually navigate the in-game menu options. While there is a "benchmark.ini" file and the binary strings make it look like an argument is possibly accepted to pass an INI benchmark file with relevant resolution and visual preset options, sadly after several hours of experiments there was no such luck. Trying to modify the in-game benchmark.ini didn't yield any changes, trying relative/absolute paths to an alternate INI was unsuccessful, trying other common workarounds yielded no such luck for easily passing the benchmark INI options for this game to the Linux build.
But at least editing the preferences XML file generated by Feral is a success. So while it's not ideal as the game's benchmark.ini options with Windows, it can get the job done for reproducible and automated benchmarking. Just not something I love, but also useful to Mesa developers and other GPU driver teams.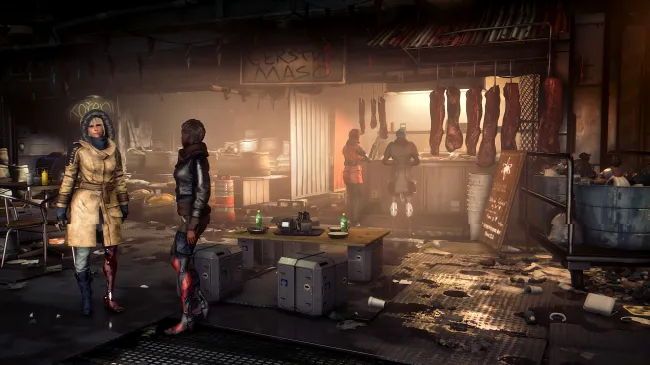 So now on OpenBenchmarking.org is the deus-exmd test profile. As you can see when digging in due to not being able to get any arguments working in the -benchmark mode, the prompted options come down to just a few common choices for selecting the static preferences XML file you wish to load for testing.
So for this launch-day benchmarking of Deus Ex: Mankind Divided I ran thirteen different NVIDIA graphics cards with the 375.10 Linux driver on Ubuntu 16.10 through its paces with the five different DeusExMD test configurations shipped via this benchmarking test profile. The cards tested included the GTX 680, GTX 760, GTX 780 Ti, GTX 950, GTX 960, GTX 970, GTX 980, GTX 980 Ti, GTX 1050, GTX 1050 Ti, GTX 1060, GTX 1070, GTX 1070, and GTX 1080.
For those that didn't read it yesterday, Feral lists the GeForce GTX 680 as the minimum system requirement while a GeForce GTX 1060 is what's recommended. The thirteen graphics cards listed above is what I found to be reasonable when looking at the results and decided against testing any of my older cards. Of course, once the Mesa Git stack is playing better for this game, I'll be back with some AMD Linux benchmarks.