Ubuntu 19.10 Provides Good Out-Of-The-Box Support For The Dell XPS 7390 Icelake Laptop
Besides the late Thunderbolt support, the only real tweak needed to get Ubuntu 19.10 to install on the Dell XPS 7390 was switching from the "RAID On" storage mode in the BIOS to the "AHCI" mode, otherwise the Ubuntu 19.10 installer would not see the NVMe SSD... Not an entirely uncommon situation.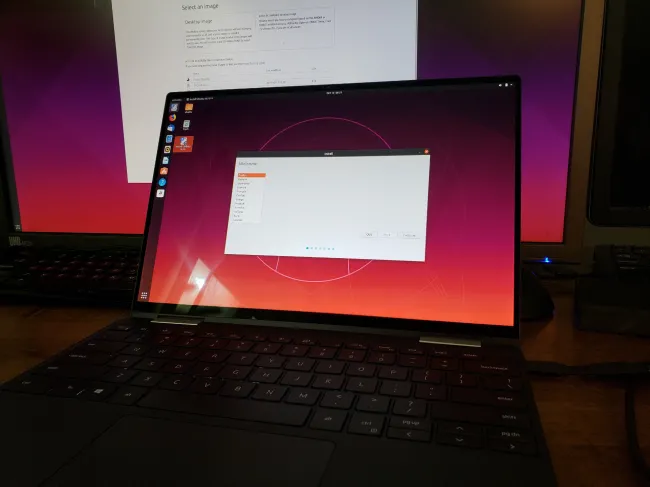 Aside from that tweak to the storage setting, it was an effortless experience getting Ubuntu 19.10 running on this Dell XPS Ice Lake laptop! The touchscreen was even working, no issues with the keyboard or touchpad, WiFi was correctly working without needing to mess around with any firmware, and the Gen11 Iris graphics were accelerated -- all with the stock packages of Ubuntu 19.10.
Ubuntu 19.10 is shipping Mesa 19.2.1, which is in good shape for Gen 11, though those wanting the best features/performance will want to use Mesa 19.3-devel from the Oibaf PPA or similar for having the very newest Intel open-source graphics drivers.
Overall I was happy with the initial experience of Ubuntu 19.10 with this Intel Core i7 1065G7 powered laptop, though the lack of working Thunderbolt until Linux 5.4 is unfortunate especially for those like I that use the Dell Thunderbolt Docks. This experience on the Dell XPS 7390 should be similar to that of Fedora 31 shipping in a few weeks and other 2019 autumn Linux distributions while using anything older is where you may run into different issues. Details on possible problems can be found via the Arch Wiki. I'll have more details on any other Linux distribution caveats as my testing gets further along.
Stay tuned for our first Intel Ice Lake Linux benchmarks and Intel Gen11 graphics performance tests in the coming days ahead. If you enjoy our in-depth daily Linux benchmarking, consider showing your support by joining Phoronix Premium or making a PayPal tip, especially in cases like this of hardware expenses in order to be able to deliver timely Linux results on these long-awaited Intel processors. There will be a lot of Intel Ice Lake Linux benchmark data over the weeks ahead from this laptop.
If you enjoyed this article consider joining Phoronix Premium to view this site ad-free, multi-page articles on a single page, and other benefits. PayPal tips are also graciously accepted. Thanks for your support.