Dell XPS 13 Kabylake Makes For A Great Linux Laptop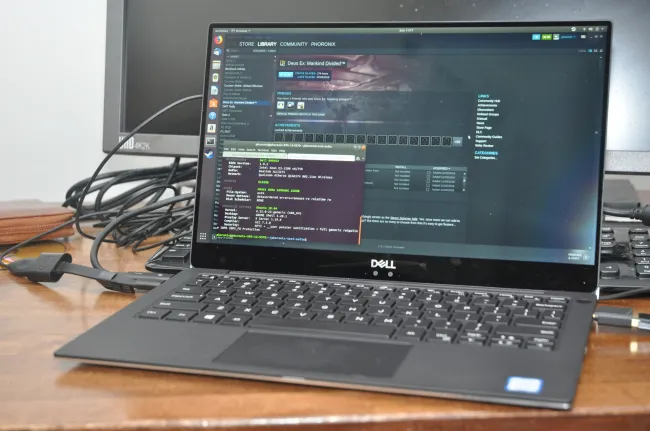 Among the recent Phoronix benchmarks with the Dell XPS 13 9370 have already included:
- UHD Graphics 620 tests between Windows 10 and Linux.
- Windows 10 vs. Linux distribution benchmarks from this Dell XPS laptop.
- Windows 10 vs. Linux power consumption numbers on the hardware as well.
It's performed admirably with the Intel Core i7 8550U processor. For some additional perspective how this Dell XPS 13 (9370) performs relative to older laptop hardware you might be upgrading, I compared its performance to a few older laptops both in raw performance and performance-per-Watt while running on battery power. The laptops for these additional reference benchmarks included:
Dell XPS 13 - The 9370 model with the Core i7 8550U, 256GB Samsung NVMe SSD, UHD Graphics 620, and 1080p panel.
Lenovo ThinkPad X1 Carbon - The X1 Carbon with Core i7 5600U Broadwell CPU, 8GB RAM, Intel HD Graphics 5500, 128GB Samsung SSD, and 1080p panel.
ASUS UX301LAA - The Haswell era ASUS Zenbook laptop with Core i7 4558U, 8GB RAM, dual 128GB SanDisk SSDs, Iris Graphics 5100, and 2560 x 1440 panel.
ASUS UX32VDA - The oldest laptop of those tested with an Intel Core i7 3517U IvyBridge CPU, 4GB RAM, dual 128GB SanDisk SSDs, HD Graphics 4000, and 1080p display.
These four laptops were benchmarked while running Fedora Workstation 28 with all stable release updates as of testing that brought it up to Linux 4.17, GNOME Shell 3.28.2 on Wayland, Mesa 18.0.5, GCC 8.1.1, and using an EXT4 file-system on the solid-state drive storage.
Via the Phoronix Test Suite a range of benchmarks were run looking at the raw performance potential of these various laptops as well as the battery power use and performance-per-Watt.