We Rely On Your Support: This site is primarily supported by advertisements.

Ads are what have allowed this site to be maintained for the past 16 years.

We do our best to ensure only clean, relevant ads are shown, when any nasty ads are detected, we work to remove them ASAP. If you would like to view the site without ads while still supporting our work, please consider our ad-free Phoronix Premium. You can also consider a tip via PayPal.
Dell's Thunderbolt TB16 Dock Can Work With Linux & Drive Dual 4K Displays
Most important for me was just the ability to drive two 3840 x 2160 panels as my main environment... More details on that in Using Dual 4K Monitors Stacked With GNOME. Even with the Dell XPS 13 9370 having Intel UHD Graphics 620, it ended up working fine for running two external 4K displays powered by the Intel Kabylake-R graphics with the GNOME Shell desktop environment and Mesa 18.0 + Linux 4.17. But an important caveat with that is switching to the GNOME X.Org session rather than the default Wayland-based session. With the Wayland-based session on the dual 4K displays I found it to be particularly sluggish and barely usable, but when switching to the X.Org session the experience has been great even with plenty of Firefox/Thunderbolt/Chrome/Gedit/terminal windows active at any given point and occasional video playback. Regarding the poor performance under Wayland, there are some known GNOME bugs/shortcomings right now but there are WIP patches in different areas to improve the performance. Hopefully by GNOME 3.30 the experience will be better, but for now I am happy with the GNOME X.Org experience on this setup.
The USB experience with the TB16 Dock has also been working out fine under Linux. For my use-cases I have my USB keyboard and mouse connected to the dock along with a USB 3.0 external drive enclosure and the occasional SD card reader. I haven't had any USB problems to speak of over my use of this setup the past month. Some Linux users on other distributions/kernels have reported slow performance at time with USB via the TB16 dock, but I haven't reproduced that on my setup.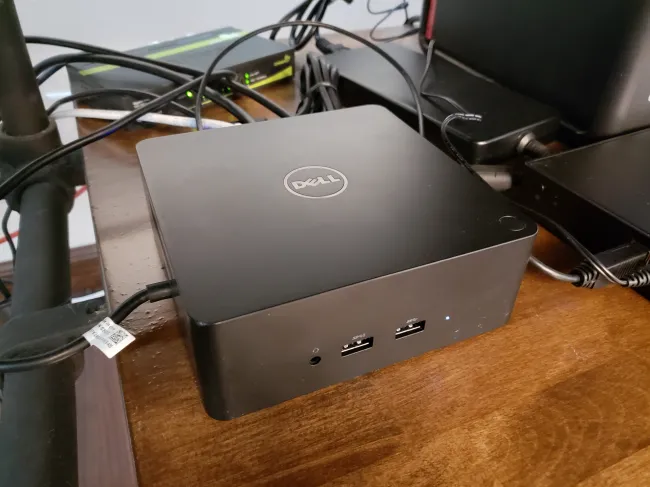 The only issue I have occasionally encountered under Linux with the Dell TB16 is some quirks for the Gigabit Ethernet. At first the Gigabit Ethernet adapter was not appearing under Linux, but a kernel upgrade on Fedora 28 took care of that issue. However, at times the Ethernet performance does appear to be a bit slow or give errors oddly when using SSH at times. For me though it hasn't been a deal breaker especially with the WiFi/WLAN of the laptop and can always resort to a USB-based Ethernet adapter if desiring a wired connection.
Long story short, the Dell Thunderbolt TB16 Dock has been working out quite well under Fedora Workstation 28. Most importantly is the ability to drive two 4K displays with ease but the USB and power-charging all over a single cable are certainly handy. The Dell TB16 Thunderbolt Dock can be found at retailers like NewEgg.com for around $240+ USD.
Lastly a personal storage/organization hack when only having to deal with a single Thunderbolt cable for the dock.... Where's the laptop?
Made easy when building your own wooden computer desks, but with a couple Z hangers designed for picture frames, the laptop is on the underside of the tabletop while having airflow on all sides and being completely out of sight while still being easily removable and this laptop stand/mount costing less than $1 for the hangers.
If you missed my recent tests, be sure to see the Dell XPS 13 Linux tests and benchmarks, including interesting power consumption figures against Windows and more.
If you enjoyed this article consider joining Phoronix Premium to view this site ad-free, multi-page articles on a single page, and other benefits. PayPal tips are also graciously accepted. Thanks for your support.