PocketCHIP Shipping In Mass Next Month - Makes Fun $69 Debian Linux Handheld
It's been a few months since Next Thing Co's C.H.I.P. computer was successfully funded on Kickstarter as "the world's first $9 computer" along with the PocketCHIP, a C.H.I.P. powered, battery-backed handheld with physical keyboard. Next Thing Co shipped to their backers over the summer whole in November they expects to begin shipping mass production orders on the CHIP and PocketCHIP. Over the past few weeks I've been playing with these low-cost ARM devices.
Next Thing Co sent out their assortment of C.H.I.P. hardware a few weeks back and I've spent some time playing around with them. The $9 price of the C.H.I.P. is nice for those who want a tiny ARM SBC for IoT, robots, or other applications. The C.H.I.P. is powered by a 1GHz Allwinner R8 processor, 4GB of onboard storage, 512MB of RAM, and while the specifications aren't too impressive, it does also have 802.11 b/g/n WiFi and Bluetooth 4.0 for making the possible use-cases more versatile.
The CHIP relies upon Mali 400 for graphics, unfortunately, pressed to use a binary blob with the Lima project not yet having a viable driver.
With the specifications not being anything real impressive by itself, more fascinating has been playing with the PocketCHIP. The PocketCHIP features a removable CHIP SBC at the back of the unit while has a 480 x 272 LED backlit display, touchscreen capabilities, a physical QWERTY keyboard, and comes with a relatively well built injection-molded clear case.
The PocketCHIP also has a battery that is rated to last up to five hours. Having just a CHIP in there, the system specifications are the same as the standalone single-board computer with the 1GHz ARMv7, 512MB RAM, 4GB storage, Mali 400 graphics, and the WiFi/Bluetooth.
The PocketCHIP costs only $69 USD and is pre-loaded with a spin of Debian Jessie. It comes preloaded with a terminal, a game, and other basic applications. But there is root access supported for the device so you can easily use APT to your heart's content.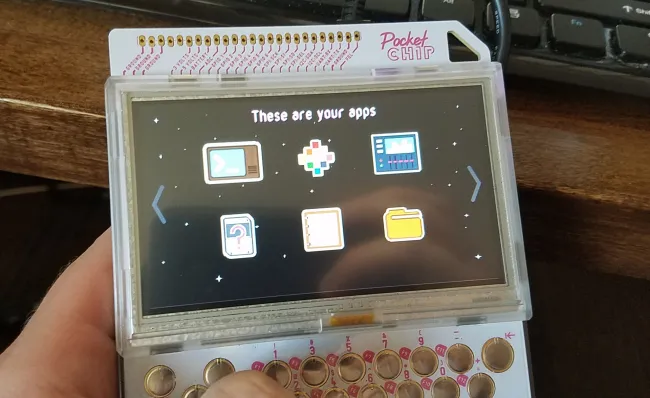 The touch capabilities worked out fine in my testing.