Turning A Basement Into A Big Linux Server Room
Next up was the wife's job to do the painting of everything...
While Fatima took care of the painting, I took care of replacing all the electrical receptacles. Leviton continues to be my preferred brand for electrical components. For all the outlets connected to server equipment, the professional / heavy duty outlets were used since they do make a big difference in terms of quality over the contractor packs of consumer grade outlets for a fraction of the price.
After that, it was time for flooring. For this, after laying down the moisture barrier, large laminate plank flooring was used. Having used similar flooring elsewhere, it's easy to install, the price is good, and it's able to withstand the weight of all the server/computer equipment.
However, this particular StyleSelections SwiftLock flooring purchased from Lowes ended up being awful. The other vinyl/laminate plank flooring I've used on other jobs have been much better than the quality of this flooring -- many chipped edges, the pieces not locking together as well as other brands, etc.
Though once installed, it looked nice and some seeing the room asked if it was real tiling.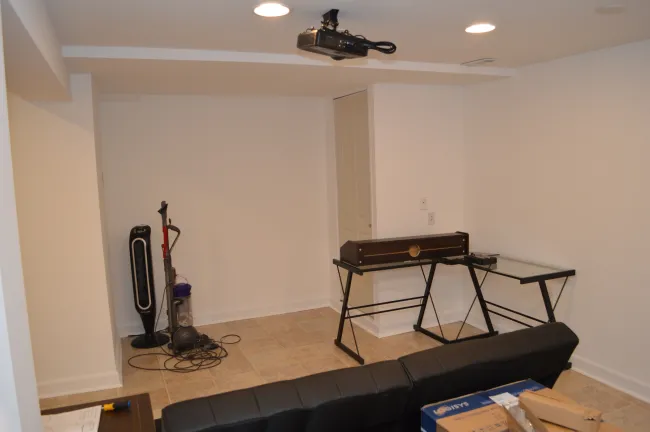 It's an old VGA projector I hung on the ceiling for now, which I had laying around for a few years. The VGA projector works good enough for now for just showing the Phoromatic Dashboard and other technical data, as opposed to watching movies, etc. Plugable's VGA to HDMI cable worked great for adapting it to the HDMI cable through the ceiling.
Then came time to install some cabinets and a wine/drink cooler... For when working in the basement or when any Phoronix/PTS vendors/customers are visiting.
It was the Wine Enthusiast 32 Bottle Touchscreen Wine Refrigerator. The bottom side of it I removed the wine racks from for storing beers and soft drinks. It's great for when customers are visiting, when spending 100+ hour weeks working at night, and it made the wife more appreciative of the basement as well.