We Rely On Your Support: Did you know that the hundreds of articles written on Phoronix each month are mostly authored by one individual working insane hours? Phoronix.com doesn't have a whole news room with unlimited resources and relies upon people reading our content without blocking ads and alternatively by people subscribing to Phoronix Premium for our ad-free service with other extra features. You can also consider a tip via PayPal.
Turning A Basement Into A Big Linux Server Room
In the basement is a sump pump pit. Previously this area was just completely open, but in that being an eye sore and not wanting to potentially flood the server room, I built that into a closet.
Along the interior of this sump pump closet I used cement board for extreme measure and caulked the joints. The bottom of the door was also raised to form a little tub, plus adding a water sensor connected to the security system so if any water does reach the floor level, it will alert me right away -- hopefully before any water gets outside the closet! A few months back as extra precaution installed a Basement WatchDog sump pump with back-up pump and battery, to hopefully avoid any water issues in a basement server room.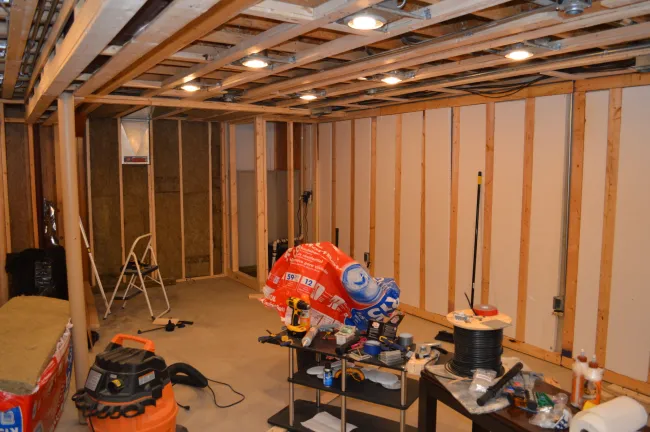 Next up was the electrical work. I had two 15 Amp circuits added (each going to one of the main walls of the basement to replace the existing outlets) to complement the other 15 Amp circuit pre-existing to the basement and there's also a 15 Amp circuit within the electrical closet. In total it's much better than before with the bedroom-turned-server-farm in being limited to one 15 Amp circuit.
Aside from the new circuits, also installed all new light fixtures. In replacing the hideous lighting from before, twelve 6-inch recessed cans were installed in the ceiling. With these recessed lights, BR30 LED bulbs were installed and provided plenty of light for this new environment.
While everything was opened up, I also dropped new coax and CAT6 cable throughout the basement and also a few runs back into my main office upstairs. I also formed a cable channel in the ceiling along the wall that stretches from the electrical closet to sump pump closet (from where it's easy to feed elsewhere into my main office) for making it easy if needing to add any additional wiring in the future.
Also dropped a HDMI cable through the ceiling and through a wall for connecting the projector.
This is the step certainly worth planning through carefully to make sure you have all of your electrical and communication cables planned out perfectly if wanting to turn your basement into a server room. I already have a few faint regrets about not adding a couple more CAT6 jacks on the walls, etc, but overall it all worked out nicely.