ASUS P5E64 WS Professional
Motherboard Layout:
The ASUS P5E64 WS Professional motherboard is laid out quite cleanly and it's not too different from many of the enthusiast-oriented ASUS motherboards we have looked at lately. Cooling the Northbridge, Southbridge, and power circuitry around the processor is a heatpipe-based copper cooling solution as part of ASUS's Stack Cool 2. The heat transferred through these heatpipes is exhausted near the rear I/O panel. To the right of one of these heatpipes are the four DDR3 DIMM slots. This motherboard/chipset support up to 8GB of DDR3 memory and the maximum memory frequency supported is DDR3-1800MHz. However, the DDR3-1600MHz and DDR3-1800MHz modes are only supported in an overclocking mode; otherwise, the highest frequency inherently supported by this chipset is DDR3-1300. Along the edge of the PCB and next to the DDR3 memory slots are the 24-pin ATX, FDD, and IDE connectors. The Super I/O ASIC in this corner of the motherboard is the Winbond W83627DHG-A.
The copper heatsink covering the Intel ICH9R Southbridge is thin but has quite a bit of surface area. Additionally, much of the heat is transferred to the single heatpipe that connects it and the Northbridge. Three pushpins secure this bottom-most heatsink. Some of the items worth mentioning in this area of the motherboard include the eight SATA 2.0 ports, front panel header, two USB 2.0 ports, and CMOS battery. All eight of the Serial ATA ports are rotated 90 degrees and positioned along the edge of the motherboard's PCB, which has become quite common these days and (among other benefits) ensures that long graphics cards will not obstruct any of these ports. The ICH9R only provides six of the SATA 2.0 ports while a Marvell 88SE6145-TFE1 controller handles the other two remaining ports (including the eSATA).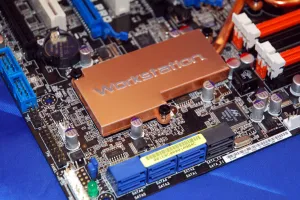 The expansion slots on the ASUS P5E64 WS Professional include four PCI Express x16, two PCI, and one PCI Express x4. The two blue PCI Express x16 slots are PCI-E 2.0 compliant and operate with full x16 bandwidth while the other two are limited to PCI-E x4. These four PCI Express x16 slots are spread between the two PCI slots to allow for efficient heat flow. Some of the ASICs surrounding these expansion slots include VIA's VT6308S IEEE-1394 Firewire controller, Marvell's Yukon 88E8001-LKJ1 dual Gigabit Ethernet controller, and ADI's AD1988B 8-channel HD audio codec.