We Rely On Your Support: Did you know that you can get Phoronix Premium for under $3 per month? Try it today to view our site

ad-free, multi-page articles on a single page, and more

while the proceeds allow us to write more Linux hardware reviews.
ASUS MX279H 27-inch LED-Lit AH IPS Monitor
The ASUS MX279H is a nicely built 27-inch LED-Lit monitor that retails for just over $300 USD, but to the dismay of some, its resolution is just 1920 x 1080.
The ASUS MX279H monitor features a 27-inch AH IPS display with 178-degree viewing angles. The monitor features an 80000000:1 ASUS Smart Contrast Ratio, 5ms GTG response time, and 250 cd/m2 brightness. The specs are overall quite nice until considering it's only a 1920 x 1080 resolution; for a 27-inch monitor I'd much rather see a 2560 x 1400 display or greater (fortunately, in the coming days will also be a review on Phoronix of the 27-inch PB278Q 27-Inch WQHD LED-lit PLS Professional Graphics Monitor at 2560 x 1440).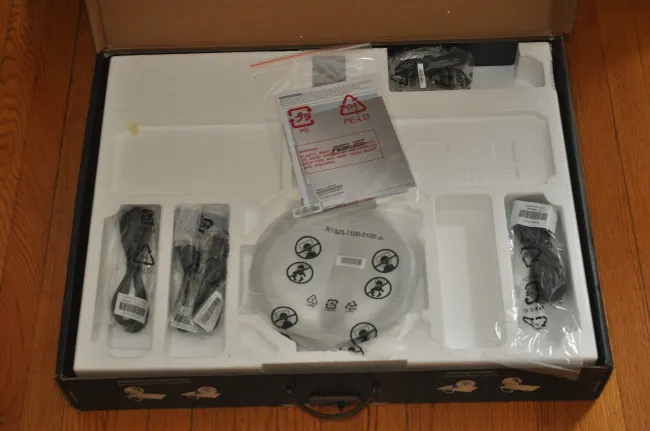 Included with the monitor were the aluminum base, US power cable, external power supply (the monitor has a very slim form factor so the power supply is external to the unit), VGA cable, DVI to HDMI cable, and analog audio cables. No HDMI to HDMI cable is included with the monitor.
As just mentioned, the monitor itself is very thin (about the thickness of an average thumb; at the thinnest point it's 17.5mm) and the AH-IPS LED display is near frame-less. The display consumes less than 30 Watts of power under normal operation or less than 0.5 Watts when in its power saving mode. The monitor has a +20 degree to -5 degree tilt support but there are no height adjustments. The dimensions with the stand for the monitor are 627 x 441 x 225 mm.
While integrated monitor speakers are generally disappointing, the speakers found with this monitor weren't too bad. The ASUS MX279H has dual 3 Watt RMS Bang & Olufsen ICEpower speakers.