ASUS GeForce 9600GT 512MB
GeForce 9600GT On Linux:
Official support for the GeForce 9600GT was introduced in the NVIDIA 171.06 Beta driver for Linux, Solaris, and FreeBSD. A stable driver release is expected in the near future. On the open-source side, there is already support within xf86-video-nv, but that driver is limited to 2D acceleration. The reverse-engineering Nouveau developers are still working on G80/G90 support.
While testing the ASUS EN9600GT TOP graphics card, we had measured its die temperature using the nvidia-settings panel. When the system was idling its temperature was around 30°C and when enduring load (even while overclocking) we had never found the temperature exceeding 60°C. This is quite impressive and only possible using a non-reference GPU cooler.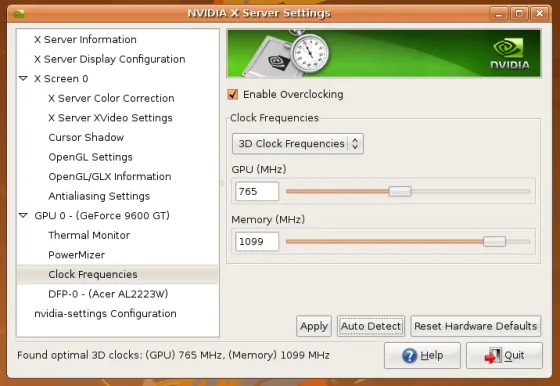 (
The ASUS EN9600GT TOP comes with its G94 core clocked 10% faster (720MHz compared to the 650MHz reference) and its GDDR3 memory at 1000MHz (900MHz reference), but we were successful in pushing these clock frequencies even higher. The optimal 3D clocks attained using CoolBits on Linux was 765MHz for the GPU and 1099MHz for the memory. Compared to NVIDIA's specifications, this is a 115MHz boost for the core and 199MHz for the video memory. Throughout all of our testing, this ASUS graphics card was stable at these frequencies and thanks to the Glaciator Fansink there were no cooling issues.