ASUS GeForce 9600GT 512MB
Examination:
NVIDIA's 9600GT reference cooler covers nearly the entire PCB and is a single-slot solution. ASUS proudly deviates from the GeForce 9600GT reference design with their EN9600GT TOP by utilizing a Glaciator Fansink. This GPU heatsink was used on some of ASUS's earlier cards and is an orb cooler with a very hefty fan attached. This cooler does quite an impressive job at keeping the GPU core quite cool -- even while overclocking further -- and we will share more on that later in this review.
While AMD's RV670 is manufactured on a 55nm fabrication process, the G94 core (like the G92) is built upon a 65nm process. The estimated transistor count is at 505 million. The ASUS Glaciator Fansink only cools the G94 die and doesn't come equipped with any heatsinks for the GDDR3 video memory. Samsung with a part number of K4J52324QE-BJ1A makes the 512MB of memory used by the ASUS EN9800GT TOP. This GDDR3 memory is rated for a maximum frequency of 1000MHz. NVIDIA's reference memory clock for the 9600GT is 900MHz.
At the rear of the graphics card is a single 6-pin PCI Express power connector. The GeForce 9600GT supports SLI and its bridge connector can be found along the top of the PCB, but the Glaciator Fansink is free from obstructing an SLI bridge. Near the SLI connector is also the internal S/PDIF header for connecting to your motherboard's audio source, if you plan to use included HDMI adapter.
The fan on the Glaciator Fansink is connected via a two-pin header at the rear of the PCB. In the event you wish to replace the ASUS graphics card cooler, this PCB does have all of the standard mounting holes found on the reference NVIDIA GeForce 9600GT graphics card.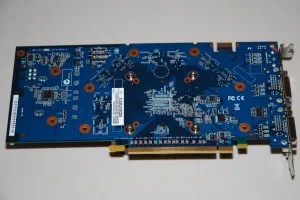 Some of NVIDIA's partners are shipping the 9600GT graphics cards with DisplayPort and/or HDMI connectors, but ASUS with its EN9600GT TOP HDMI utilizes two DVI connectors. With that said, however, there is the included DVI to HDMI adapter with pass-through audio support. Both of the DVI ports support dual-link DVI displays and on the end is the TV-Out connector.