We Rely On Your Support: Have you heard of Phoronix Premium? It's what complements advertisements on this site for our premium ad-free service. For as little as $3 USD per month, you can help support our site while the funds generated allow us to keep doing Linux hardware reviews, performance benchmarking, maintain our community forums, and much more. You can also consider a tip via PayPal.
BIOS/UEFI:
The UEFI setup utility shipped on the ASRock AM1H-ITX is a standard interface for ASRock motherboards. Limited overclocking support is available for this motherboard.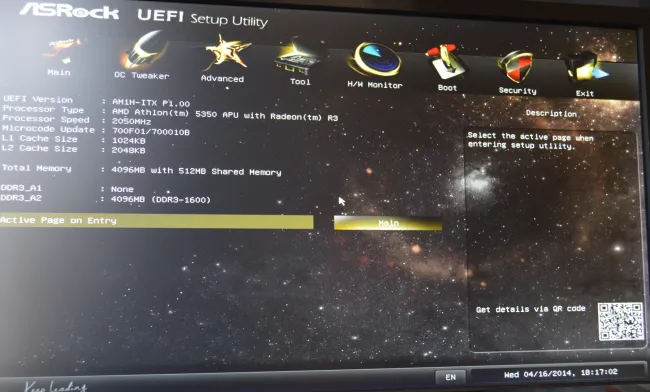 Linux Support:
As with the other AMD AM1 motherboards we have tested thus far (the Gigabyte AM1M-S2H and ASUS AM1I-A), the ASRock AM1H-ITX worked fine under Linux. The main distribution we have been testing is Ubuntu 14.04 LTS.
There were no issues with the AM1H-ITX motherboard and the modern Linux kernel sans the lack of LM_Sensors support for reading the various hardware sensors on the motherboard. This, however, is a common limitation to Linux on newer motherboards. Additionally, as with the other AM1 motherboards, it's very advisable if planning to use Linux with the open-source Radeon graphics driver you will want to be running the Linux 3.14~3.15+ kernel, Mesa 10.2 or newer, and other recent software components for the best OpenGL support and performance. If using Catalyst, running the latest Catalyst Linux driver should be fine.
Linux Performance:
For those curious how the ASRock AM1H-ITX performs against the Gigabyte AM1M-S2H and ASUS AM1I-A motherboards, I uploaded a three-way comparison using the Athlon 5350 APU.
The three-way AM1 motherboard comparison was done with the Phoronix Test Suite and the results can be found by clicking 1404160-KH-ASROCKMOB27. Overall, the ASRock motherboard performance is in line with the other Gigabyte and ASUS products. I've also used this ASRock motherboard in a few of the other AMD AM1 Linux articles.
Conclusion:
Overall, I like the ASRock AM1H-ITX motherboard a lot! The AM1H-ITX works fine with recent versions of Linux, it's great to have the PCI Express x16 option out of this mini-ITX motherboard, four Serial ATA 3.0 ports should be sufficient to most users, it's wonderful to have VGA / DVI / DisplayPort / HDMI options, the connectivity overall is great, and lastly the option to use a DC-In power connector in place of a 24-pin ATX PSU is also great for low-power AMD APU systems. The ASRock AM1H-ITX motherboard is currently retailing for $55~60 USD.