We Rely On Your Support: Did you know that you can get Phoronix Premium for under $3 per month? Try it today to view our site

ad-free, multi-page articles on a single page, and more

while the proceeds allow us to write more Linux hardware reviews.
ASRock Rack EPYCD8-2T Makes For A Great Linux/BSD EPYC Workstation - 7-Way OS AMD 7351P Benchmarks
The rest of the results were coming in line with expectations of our BSD vs. Linux benchmarks on other hardware platforms. In total more than 60 benchmarks were run on each of the operating systems from this AMD EPYC 7361P test box. Those wanting to dig through all of the data can see all the numbers on OpenBenchmarking.org.
Of all the benchmarks, Clear Linux was the fastest of the tested operating systems with 24 first place finishes (38% of the time) followed by openSUSE Leap 15.0 with twelve wins (19%) and then in third place was FreeBSD 12.0 with seven wins. While FreeBSD 12.0 came in third place for wins, it was nearly tied for the most losses too -- DragonFlyBSD 5.4.1 and FreeBSD 12.0 each came in last place around 25% of the time. Above is a graph looking at the geometric mean of all the test results that successfully ran on all of the tested operating systems. On a geometric mean basis, openSUSE Leap and Clear Linux are effectively tied followed by Fedora Workstation 29 and Debian 9.8. OpenSUSE tends to perform well on AMD hardware as we've also shown in the past, in part due to the close working relationship between AMD and SUSE from over the years on many different initiatives.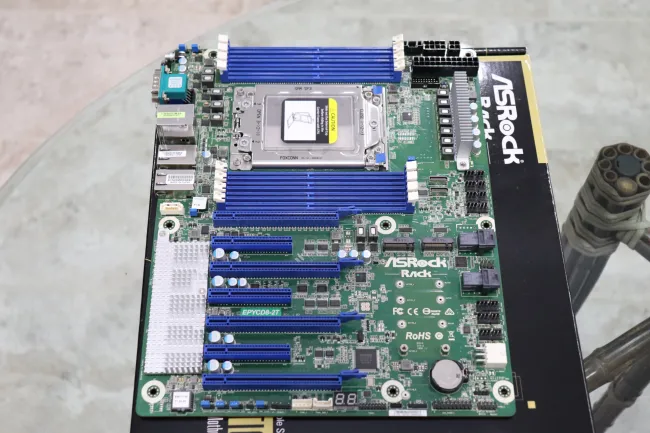 Back to the ASRock Rack EPYCD8-2T, this board has been running constantly in our benchmark lab now for the better part of one month and it's been running very well so far. There hasn't been any problems to report, the motherboard is chuggling along with both BSDs and Linux platforms, and the feature set of this board is quite good with it retailing for just above $500 USD. Having four PCIe x16, four PCIe x8, dual 10 Gigabit LAN, dual M.2 NVMe SSD slots plus OCulink for U.2 SSDs, and other features all packed onto an ATX sized board makes it quite a versatile EPYC 1P platform.
If you enjoyed this article consider joining Phoronix Premium to view this site ad-free, multi-page articles on a single page, and other benefits. PayPal tips are also graciously accepted. Thanks for your support.