We Rely On Your Support: Did you know that the hundreds of articles written on Phoronix each month are mostly authored by one individual working insane hours? Phoronix.com doesn't have a whole news room with unlimited resources and relies upon people reading our content without blocking ads and alternatively by people subscribing to Phoronix Premium for our ad-free service with other extra features. You can also consider a tip via PayPal.
Kicking Off April With An Eight-Way BSD/Linux Comparison
For getting April started, here is a fresh comparison of various BSDs and Linux distributions tested on an Intel Core i7 6800K Broadwell-E box. Tested operating systems included Antergos, Clear Linux, DragonFlyBSD 4.8, FreeBSD 11.0, Scientific Linux 7.3, TrueOS 20160322, Ubuntu 16.04.2 LTS, and Ubuntu 17.04 20170330.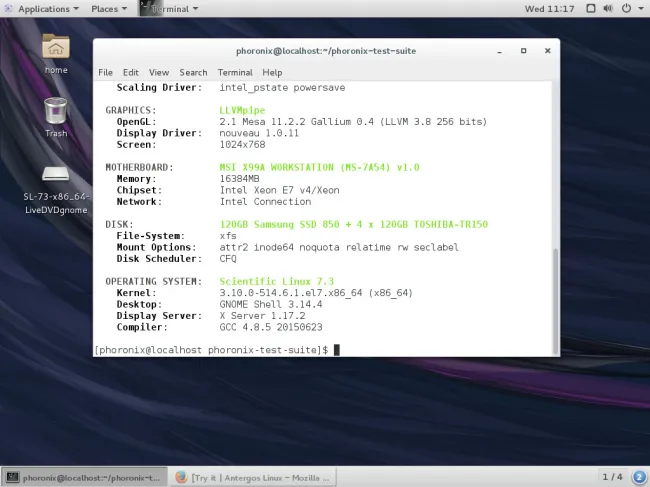 Last week using the same intel Core i7 6800K + 16GB DDR4 + Samsung 850 EVO SSD 120GB + GeForce GTX TITAN X system, these eight BSDs and Linux distributions were tested out-of-the-box for a fresh BSD vs. Linux performance look. OpenSUSE Tumbleweed and Debian Testing were left out this round since their latest releases at the time of testing had issues with at least this particular system used during testing.
It's quite a straight-forward comparison with all testing driven by the Phoronix Test Suite for automation and reproducibility, so let's get straight to the numbers.