We Rely On Your Support: Did you know that you can get Phoronix Premium for under $3 per month? Try it today to view our site

ad-free, multi-page articles on a single page, and more

while the proceeds allow us to write more Linux hardware reviews.
Is Antergos Arch Linux Really Faster Than Ubuntu, Fedora?
Frequently within the Phoronix Forums it is requested to do benchmarks with Arch Linux since its users tend to be adamant that it's the fastest Linux distribution. In the past I've run benchmarks of the Arch-based Manjaro to look for speed differences as an easy and quick to deploy variant. Today the latest Arch Linux variant I am benchmarking is Antegros Linux.
Many Phoronix readers have been bringing up Antegros Linux recently so I decided to check it out earlier this week -- it certainly is a quick and easy way to try out Arch Linux. For some benchmarks of Antegros to see how it performs, I compared its performance against Ubuntu and Fedora on the same Intel ultrabook. Specifically, the mid-June release of Antegros (declared as 2014.05-rolling) was compared to Ubuntu GNOME 14.04 LTS, Fedora 20, and Fedora 20 with all available system updates as of 23 June. The Fedora 20 updates was tested since F20 was originally released in late 2013 with there still being a long wait until Fedora 21. Fortunately, Fedora has a more liberal update policy than Ubuntu and other non-rolling-release distributions so they ship down new kernel and graphics driver updates, etc.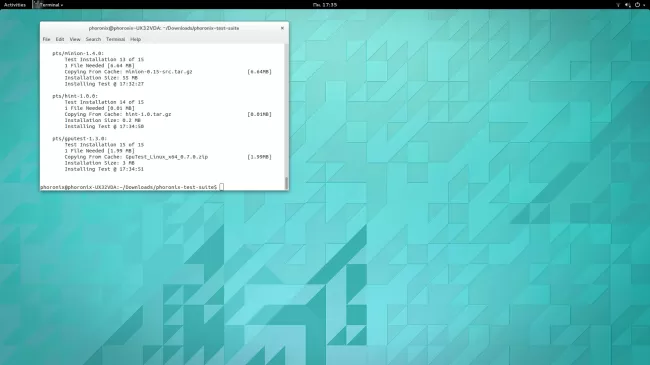 The ultrabook used for this three-way Linux distribution comparison was the ASUS Zenbook Prime (UX32VDA) with Intel Core i7 3517U CPU that clocks up to 3.0GHz and has HD Graphics 4000 of the Ivy Bridge generation. All of the system hardware was maintained the same during testing (in the automated system table, the CPU clock frequency is reported differently for Ubuntu GNOME 14.04 LTS since it uses the ACPI CPUfreq driver in place of the Intel P-State driver, which reports the base frequency rather than the Turbo frequency.
Antegros in its current form was running the Linux 3.15.1-1-ARCH kernel, GNOME Shell 3.12.2 as the default desktop environment, X.Org Server 1.15.1, xf86-video-intel 2.99.912, GCC 4.9.0, and Mesa 10.2.0. Antegros was defaulting to the CFQ I/O scheduler, EXT4 file-system, and Intel P-State driver with the powersave governor.
The Phoronix Test Suite was used for benchmarking, which fully supports Arch Linux in addition to all of the other supported platforms by our open-source benchmarking software.