We Rely On Your Support: Have you heard of Phoronix Premium? It's what complements advertisements on this site for our premium ad-free service. For as little as $3 USD per month, you can help support our site while the funds generated allow us to keep doing Linux hardware reviews, performance benchmarking, maintain our community forums, and much more. You can also consider a tip via PayPal.
15-Way AMD/NVIDIA Graphics Card Comparison For 4K Linux Gaming
Being in the middle of working on Linux reviews for the NVIDIA GeForce GTX 980 Ti and AMD Radeon R9 Fury, there's been a lot of fresh graphics processor benchmarks running this week at Phoronix. As the first of these updated large Linux comparisons on the very latest public drivers, here is a 15-way NVIDIA GeForce and AMD Radeon graphics card comparison when running various Linux games with a 4K resolution.
Besides serving as some fresh Linux 4K gaming performance results on the newest AMD/NVIDIA drivers, this is also our first comparison featuring the GeForce GTX 980 Ti now that the review sample arrived courtesy of NVIDIA. The first of the Radeon R9 Fury graphics card results under Linux with the Catalyst driver will be published next week as outlined yesterday. The drivers being used in this latest Linux GPU comparison is Catalyst 15.7 on the AMD side and NVIDIA 352.21 on the green side.
The 15 graphics cards used for today's comparison were the latest AMD/NVIDIA graphics cards within my possession that were available for testing and from recent generations (the newer AMD/NVIDIA GPU cards not part of the comparison are busy part of the daily performance tracking test lab setup at LinuxBenchmarking.com). The line-up included:
NVIDIA GeForce GTX 680 2048MB
eVGA NVIDIA GeForce GTX 750 1024MB
NVIDIA GeForce GTX 750 Ti 2048MB
NVIDIA GeForce GTX 760 2048MB
NVIDIA GeForce GTX 780 Ti 3072MB
eVGA NVIDIA GeForce GTX 960 2048MB
eVGA NVIDIA GeForce GTX 970 4096MB
NVIDIA GeForce GTX 980 4096MB
NVIDIA GeForce GTX 980 Ti 6144MB
NVIDIA GeForce GTX TITAN 6144MB
NVIDIA GeForce GTX TITAN X 12288MB
XFX AMD Radeon HD 7950 3072MB
XFX AMD Radeon R9 285 2048MB
XFX AMD Radeon R9 290 4096MB
MSI AMD Radeon R7 370 4096MB
There are a lot more NVIDIA GPUs tested than AMD simply because NVIDIA Corp sends out review samples practically on every different graphics card while AMD hasn't been supplying any Linux review samples in the past few years; all my GCN GPUs except for the R7 370 (supplied by MSI) were bought by Phoronix Media. There are the R9 Fury results coming next week as my latest graphics card purchase, but if you wish to see more AMD Linux graphics card reviews on Phoronix, please consider subscribing to Phoronix Premium or making a PayPal tip.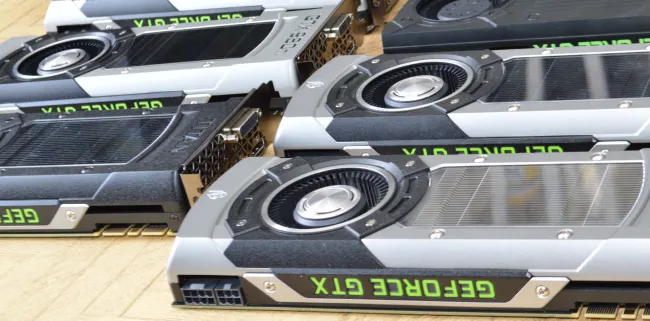 All of these graphics cards were tested on an Intel Core i7 5960X Haswell-E system with Gigabyte X99-UD4-CF motherboard, 4 x 4GB DDR4 memory, 240GB OCZ Vertex 3 SSD, and a Seiki 4K display. Ubuntu 15.04 x86_64 was running on the system with the Linux 3.19 kernel, Unity 7.3.2 desktop, and X.Org Server 1.17.1. As mentioned already, the binary drivers tested were Catalyst 15.7 and NVIDIA 352.21. If there's enough interest in open-source driver performance at 4K for Linux gaming, I can repeat this comparison with the cards that are properly supported by the RadeonSI/Nouveau Gallium3D drivers.
All of the OpenGL tests ranging from Unigine to Counter-Strike: Global Offensive and Civilization V: Beyond Earth were carried out in a fully-automated manner using the Phoronix Test Suite software. For those interested in other GPU results, these same fifteen graphics cards will be used in a comparison later this week in looking at the latest OpenCL compute numbers and then some power consumption and performance-per-Watt numbers.