AMD FirePro V3800 & FirePro V5800
The AMD FirePro V3800 is a low-profile graphics card that is just half the height of a normal expansion slot card, which makes it ideal for small form factor setups. The heatsink and its fan covering the Redwood Pro core are quite small, but the TDP for this graphics card is just 43 Watts. Of course, with the minimal power requirements, no external PCI Express power connector is needed. The copper heatsink and its two-wire, seven-blade fan were extremely quiet during our testing.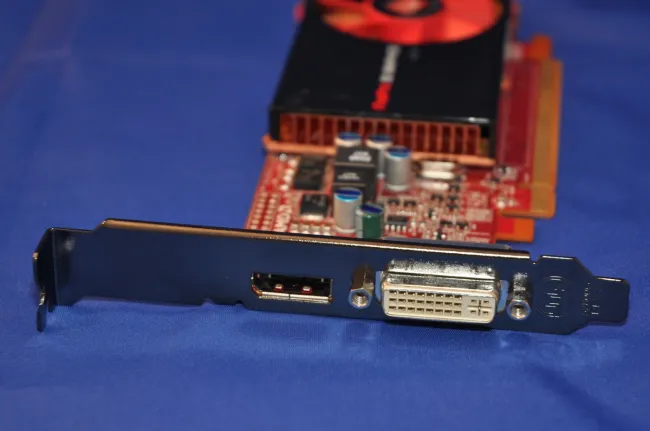 The connectors on this entry-level AMD workstation card are one DVI-D and one DisplayPort connections. Through an adapter, the DisplayPort connection can drive a DVI-D monitor as well. There is no CrossFire connector on the FirePro V3800. The DDR3 memory chips used by the V3800 are Samsung's K4W1G1646E-HC11, which are rated for 1.1ns 900MHz operation. These are the same ICs found on some Radeon HD 5770 graphics cards. The FirePro V3800 has a GPU core clock of 650MHz.