Open-Source R500 Driver Can Compete With Legacy Catalyst
The latest open-source Radeon Linux driver code for supporting the Radeon X1000 (R500) series hardware has basically reached a point of competitiveness with the legacy Catalyst Linux driver that once supported this hardware. In some cases the open-source Gallium3D driver is now faster than what Catalyst once ran at while in other select OpenGL workloads there is still a proprietary imbalance.
With the recent coverage of the newer Radeon DRM driver improvements, the HD 2000/3000/4000 support being abandoned from mainline, R600g HiZ, and other changes, it made me curious to run some very old hardware to see how it's running these days.

A Catalyst driver from four years ago...
This testing is quite simple: with a Lenovo ThinkPad T60 that bears a Mobility Radeon X1400 and on the CPU side an Intel Core Duo, compare the performance of the very latest Git code compared to Ubuntu 12.04 LTS stock and then Ubuntu 8.04.4 LTS when using its packaged Catalyst/fglrx driver. How does the performance compare?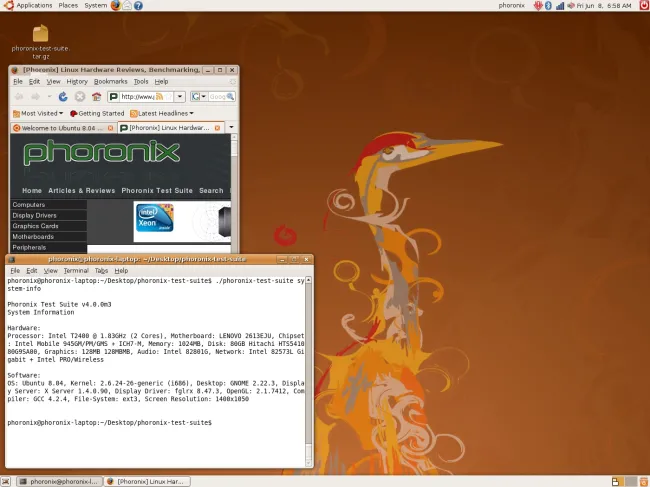 Pulling out some old hardware and old software...
Ubuntu 8.04.4 LTS was using its stock components including the Linux 2.6.24 kernel, GNOME 2.22 desktop, and then the Catalyst driver was fetched from the Hardy archive at version fglrx 8.47.3 / OpenGL 2.1.7412. This fglrx driver is Catalyst 8.3, which is what was available at the time the "Hardy Heron" first shipped and was approximately one year prior to AMD dropping R300 through R500 GPU support. In early 2009 is when AMD removed the support up through the Radeon X1000 series from their Catalyst driver code-base.