A Comparison Of AMD & NVIDIA's Linux Control Panels
For each connected display is then a sub-page within the AMDCCCLE Display Manager. This page indicates some basic (repetitive) information (display name, associated graphics adapter, maximum resolution, maximum refresh rate, and connector). Choosing whether to scale the image to the full panel size or no scaling is also determined from this area.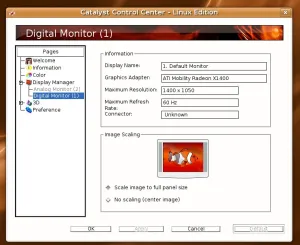 The 3D area of the Catalyst Control Center for Linux consists of anti-aliasing, anisotropic filtering, and other settings. When overriding the application setting for anti-aliasing, there is a preview area within the amdcccle for showing the differences between the varying levels. The anti-aliasing support only extends to 8x, but that's a current limitation of the fglrx driver and not to do with amdcccle itself. In the anisotropic filtering area is also a preview pane and its maximum AF override value is 16x. At this time, the only option from the "More Settings" page is toggling the vertical refresh.
The preference page within the AMD Catalyst Control Center Linux Edition is similar to NVIDIA's "nvidia-settings Configuration" page. From this page, the tool-tips ("Enable Pop-Up Help") can be toggled as well as enabling all ATI driver notifications. The tool-tips within the Catalyst Control Center just indicate very basic information about the options.
As you can also see, the AMD Catalyst Control Center right now (and the fglrx driver) only supports one Radeon graphics card. AMDCCCLE doesn't store any changed settings from AMDCCCLE in the xorg.conf or an INI file in the home directory, but in an intermittent location. AMD's driver and the aticonfig and amdcccle utilities use the AMDPCSDB. The AMDPCSDB is the AMD Persistent Configuration Store Database and is a live database that is comparable to the registry within Microsoft Windows. The file where the AMDPCSDB data is written to is /etc/ati/amdpcsdb and is done when the X server shuts down. AMD engineers prefer keeping the display-related settings in the AMDPCSDB so that any xorg.conf changes are minimal.
Comparing the current AMD Catalyst Control Center Linux Edition and nvidia-settings, the latter is certainly the most feature-rich GPU control panel for Linux right now. AMD's control panel has certainly come a long way from the FireGL Control Panel and even v0.8 of AMDCCCLE a year ago, but there simply isn't as many options available compared to NVIDIA's alternative. The options we would really like to see added to AMDCCCLE are support for thermal monitoring, overclocking (ATI OverDrive), more OpenGL settings, and integrated PowerPlay. Of course, we would also like to see support for multiple Radeon graphics cards. The benefits that the AMD control panel has are being more user-friendly (arguably) and preview panes for both anti-aliasing and anisotropic filtering.
What would you like to see changed about either utility? Tell us!