The ATI Radeon HD 5750 and Radeon HD 5770 graphics cards will be officially supported beginning with the Catalyst 9.10 driver this month. AMD has been supporting their new graphics hardware under Linux from the launch going back to the introduction of the Radeon HD 4800 series premiere last year. This is certainly a delight compared to the distant past where customers would frequently have to wait months or even years for new ASIC support. For our testing we were using a Catalyst 9.10 press driver preview for Linux, which had the OpenGL version string of 2.1.9115 and was from the fglrx 8.67 release stream.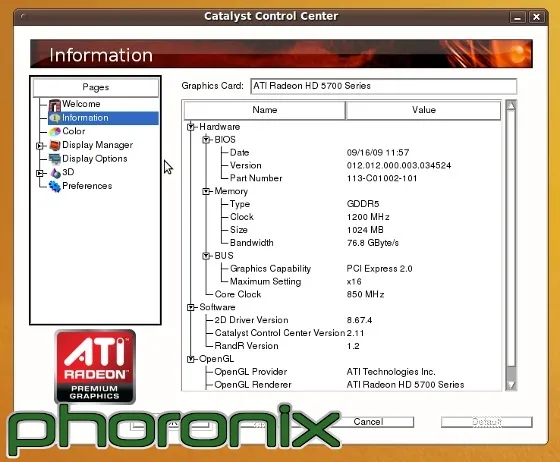 Unfortunately, even with this driver, the Radeon HD 5750 and 5770 were not properly supported via AMD's OverDrive so we were unable to manipulate the clock frequencies for any overclocking today. However, once a supported Linux driver recognizes these Juniper GPUs as being supported, we shall be back with more performance numbers. Beyond that both of these graphics cards had ran fine with Ubuntu 9.10 and this Catalyst Linux driver. The initial open-source mode-setting support for the Radeon HD 5700/5800 series still is a few weeks out while it will take longer for the open-source 3D support to arrive.
Due to the lack of OverDrive support with this release, we were also unable to monitor the temperatures of either graphics card, but at least the fans were quiet. Beyond the OverDrive limitation with this driver release, this Linux driver release also does not yet support Eyefinity. Once Eyefinity is supported under Linux, it will be possible to drive three displays simultaneously from either of these graphics cards, but for now, only two connectors can be used at a time.