AMD Radeon HD 4770 On Linux
For our testing we used a press version of the Catalyst 9.5 Linux driver (fglrx 8.61.2), which should end up being nearly identical to the public version that will be released in the next week or two. Using Catalyst 9.5 with Ubuntu 9.04 we had not run into any RV740-specific issues and this initial support was first-rate. Since the launch of the RV770 last year when they made an evolutionary leap in their Linux support, we have seen same-day/month support from AMD. Going forward with the R800 series, we hope and suspect this will remain the case.
When it comes to the xf86-video-ati and xf86-video-radeonhd drivers for open-source support, they do not yet support the Radeon HD 4770 (RV740). It is not a simple matter of adding in the new PCI ID (0x94B3), but there are some display issues, which should be worked out soon.
For our Catalyst 9.5 testing we used an Intel Core i7 920 CPU that was clocked at 3.60GHz, an ASRock X58 SuperComputer (Intel X58 + ICH10R) motherboard, 3GB of CSX DDR3-1600MHz RAM, 320GB Seagate ST3320620AS SATA 2.0 HDD, and were using a Samsung SyncMaster 305T 30-inch LCD. All of this hardware was housed within the unique SilverStone Raven RV01 chassis.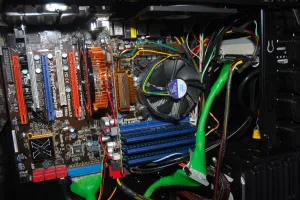 With Ubuntu 9.04 x86_64 we were using the Linux 2.6.28 kernel, GNOME 2.26.1, X Server 1.6.0, and an EXT3 file-system. With our Catalyst 9.5 build the fglrx driver was v8.61.2 and the OpenGL string was 2.1.8664. The default screen resolution was 2560 x 1600.