Sapphire Radeon HD 4670 512MB
The Sapphire Radeon HD 4670 has a stock frequency of 750MHz for its RV730XT core and 1000MHz for its Hynix GDDR3 memory. The configurable range supported by OverDrive for the graphics core is 300MHz to 778MHz and for the memory is 1000MHz to 1140MHz. In just a few minutes of overclocking we had quickly met these peaks. 778MHz for the RV730XT core is just a 28MHz (or less than a 4% boost) improvement, but the memory frequency was heightened by 14%. At these elevated frequencies the graphics card and system had remained stable through our entire testing process. Sadly, due to limitations with OverDrive we were unable to push this graphics card any further.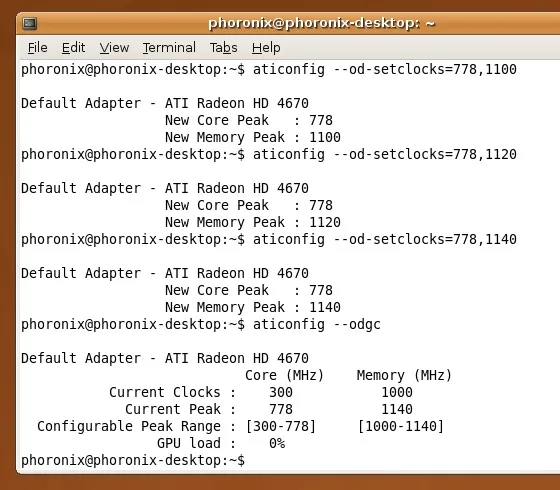 The tests we used within the Phoronix Test Suite included Nexuiz, Doom 3, Quake 4, Unigine Sanctuary, Unigine Tropics, and SPECViewPerf 9.0. Enemy Territory: Quake Wars results could not be published in this article due to regressions within the Catalyst (fglrx) Linux driver. Sadly, Unreal Tournament 3 still isn't out for Linux so we don't have those results to deliver today. The SPECViewPerf test was included to just provide a look at how these newer consumer-grade ATI graphics cards perform with this OpenGL workstation test. With each test we ran the Radeon HD 4670 at its stock speeds (750/1000MHz) and then again when it was overclocked to 778/1140MHz.
While the Sapphire version of the Radeon HD 4670 just uses a two-pin fan connector, the graphics card cooler remained quiet throughout operation when it was idling and at full load.