We Rely On Your Support: Did you know that you can get Phoronix Premium for under $3 per month? Try it today to view our site

ad-free, multi-page articles on a single page, and more

while the proceeds allow us to write more Linux hardware reviews.
Ethereum + OpenCL Benchmarks With The Latest AMDGPU-PRO Mining & NVIDIA Linux Drivers
Last week AMD released a new AMDGPU-PRO driver aimed for cryptocurrency mining that is their first release in the new v17.40 series. This new driver also allows adjusting the fragment size for increased performance and at least for mining yields a big performance boost. Here are some fresh benchmarks on multiple Radeon graphics cards using 17.40 with the amdgpu vm_fragment_size set for 2MB compared to the latest NVIDIA 387 Linux graphics driver on various GeForce GPUs.
These Ethereum Ethminer and common OpenCL benchmarks were done from Ubuntu 16.04.3 LTS with the Linux 4.10 kernel. The Radeon cards tested included the Radeon RX 560, RX 580, R9 Fury, RX Vega 56, and RX Vega 64. The Radeon driver used was AMDGPU-PRO 17.40 with manually installing the bundled ROCm OpenCL packages and booting the system with amdgpu.vm_fragment_size=9 for the 2MB size.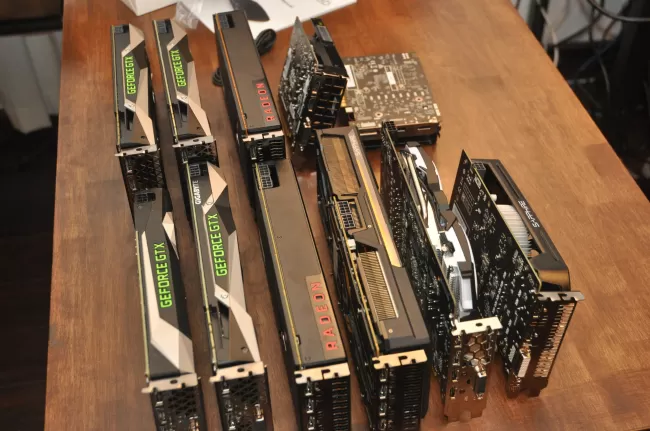 The NVIDIA cards were tested using the latest 387.12 binary driver and the GPUs were the GeForce GTX 1050, GTX 1050 Ti, GTX 1060, GTX 1070, GTX 1080, and GTX 1080 Ti.
The Ethminer, cl-mem, [email protected] FAHbench, and LuxMark OpenCL tests were run via the Phoronix Test Suite in an automated and standardized fashion across all the Radeon and NVIDIA graphics cards.