AMD Threadripper 2000 Series Details: Up To 32-Cores / 64-Threads With The 2990WX
AMD's Threadripper 2990WX 32-core / 64-thread processor is real and launching next week. At the end of July we were in Maranello, Italy for AMD's Threadripper "2nd Gen" Tech Day, and while there have been leaks in recent days/weeks, today the embargo expires for being able to talk about this high-end desktop platform update.
The Threadripper 2nd Gen Tech Day took place at the Ferrari facilities in Maranello, celebrating the AMD sponsorship of the Scuderia Ferrari racing team and an obvious theme on speed/performance.
Today the embargo expires concerning the technical information and images on the new Threadripper processors, but unfortunately the reviews/benchmark embargo does not expire until next week. So for now we can confirm the technical details of these new CPUs and share images, but you will have to wait a few more days until hearing about the new Threadripper processors perform under Linux... But as one could reasonably imagine, AMD wouldn't have bothered sending us to Italy if they didn't believe they had a strong -- and supported -- offering for Linux users with their new processors. The new Threadripper processors being introduced include the:
AMD Threadripper 2920X - At $649 USD this processor offers 12 cores / 24 threads with a 3.5GHz base frequency and 4.3GHz boost frequency.
AMD Threadripper 2950X - Coming in at $899 USD and succeeding the Threadripper 1950X, the 2950X is 16 cores / 32 threads with a 3.5GHz base frequency and 4.4GHz boost frequency. That's compared to 3.4GHz with 4.0GHz boost with the 1950X; AMD did state at the event that the first generation Threadripper CPUs will likely continue to be available via retail channels still over the next quarter or two, but were not prepared to announce any discounted pricing yet on those processors. The TDP on these X Series processors is 180 Watts.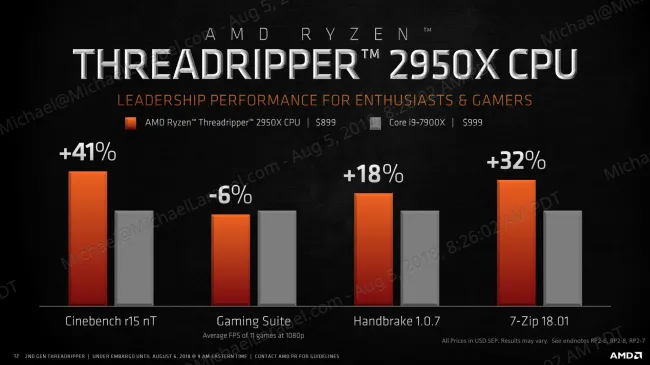 And for even more computing potential, AMD is introducing the new "WX" series of Threadripper CPUs designed for creators and innovators:
AMD Threadripper 2970WX - This $1249 USD processor offers 24 cores / 48 threads with a 3.0GHz base frequency and 4.2GHz boost frequency.
AMD Threadripper 2990WX - The flagship 2990WX processor offers 32-cores / 64-threads while maintaining the 3.0GHz base / 4.2GHz boost clock frequencies. Yep, 64 threads -- double that of the original 1950X -- for less than $1800 USD while Intel's current top-end Core i9 7980XE Extreme Edition CPU is at 18 cores / 36 threads for $1900. The TDP on this 32-core processor is 250 Watts.
These new Threadripper CPUs support the AMD 2nd Gen Ryzen "Zen+" features in common with the 12nm Zen+ Ryzen 2000 series processors that launched earlier this year. These new Threadripper 2000 series processors will work with all existing TR4 motherboards: a BIOS upgrade is required, but AMD has stated that you can drop-in these new processors without first needing to perform that upgrade using an existing Threadripper CPU, making for a much smoother upgrade process.
These new Threadripper CPUs continue offering 64 PCI Express 3.0 lanes, quad channel memory support at DDR4-2933 (compared to DDR4-2667 with the first-gen TR CPUs), 512K per core of L2 cache, 32MB L3 cache for 2950X and 64MB for the 2990WX, XFR2 and Precision Boost 2 Support, and other common Zen+ features. The Threadripper 2990WX has an estimated transistor count at 19.2 billion while the Threadripper 2950X is estimated at 9.6 billion.
The Threadripper 2990WX is made up of four dies with two of them providing 32 PCI-E lanes and two memory channels each while the two other dies are just compute dies that access DRAM/PCI-E from the other dies. The compute and I/O dies are connected via Infinity Fabric. With the 2990WX design it's exclusively a NUMA solution and fortunately Linux has great support for NUMA architectures.
The Threadripper 2990WX will open for pre-orders for today but the shipping (and review embargo) does not expire until next week on 13 August. It's on 31 August when the Threadripper 2950X will begin shipping and not until October when the 2920X/2970WX will begin shipping.
The Ryzen 2000 series desktop processors were a nice upgrade over the original Ryzen CPUs while seeing those Zen+ improvements for Threadripper should be quite exciting, but most exciting is certainly the introduction of the Threadripper 2990WX that offers 32-cores / 64-threads on a single chip while coming in at just under $1800 USD and will certainly put pressure on Intel's Extreme Edition line-up. At least on paper these new processors sound great while next week on Phoronix when the review embargo expires you will be able to find our Linux performance benchmarks on the Threadripper 2950X and 2990WX.
A lot of interesting Linux benchmarking is happening with this hardware, stay tuned...
If you enjoyed this article consider joining Phoronix Premium to view this site ad-free, multi-page articles on a single page, and other benefits. PayPal tips are also graciously accepted. Thanks for your support.