We Rely On Your Support: Did you know that you can get Phoronix Premium for under $3 per month? Try it today to view our site

ad-free, multi-page articles on a single page, and more

while the proceeds allow us to write more Linux hardware reviews.
AMD EPYC 7002 Series Unveiled With Primed Linux Support & Strong Server Performance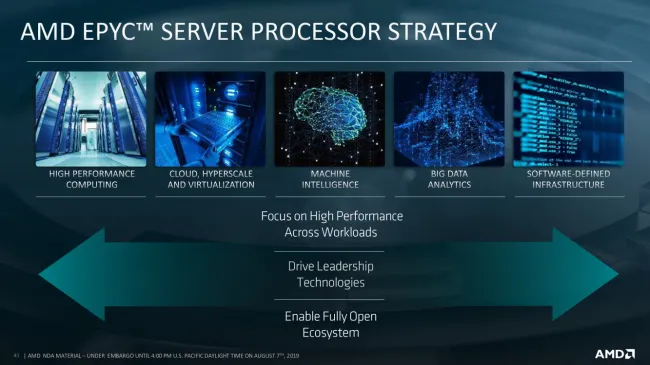 With EPYC 7002, AMD continues talking about their open ecosystem and for that matter open-source and Linux certainly got brought up a lot during the reviewer briefings. With the EPYC 7002 series, you should expect to find great Linux support at launch. At least from my testing with their "Daytona" reference platform there hasn't been any real Linux compatibility woes.
There are some sore points like not having AMD Zen 2 temperature monitoring support only now with the Linux 5.3 kernel, the IDs for the EDAC driver were only added to Linux 5.2, and some other additions fairly late, but it's for non-core functionality. If you are booting up an EPYC Rome server, it should "just work" on any reasonably recent Linux distribution but certainly the newer stack will yield better support and performance.
Short of items like the Zen temperature monitoring needing the latest kernel, in my weeks of testing the EPYC Rome processors on their Daytona reference platform I have not encountered any Linux issues. The AMD EPYC processors/microcode also isn't affected by the systemd RdRand issue that has affected early Ryzen 3000 systems causing boot issues with newer Linux distributions - this hasn't been an issue at all with EPYC 7002.
On the compiler support, GCC 9 has initial support for Zen 2 with the "znver2" target. As covered recently on Phoronix, there was finally the cost table update and new scheduler model added for GCC 10 and now back-ported for GCC 9.2. It's a pity AMD wasn't able to get those bits into GCC 8 for seeing more widespread compiler support in time for launch-day, but hopefully we'll see a better turnaround for Zen 3. I've certainly made it known to AMD that it would be nice if their enablement timing jived better with these different kernel / compiler release schedules and for the versions to be used by the major Linux distributions. AMD will also be issuing an AOCC compiler update shortly with Zen 2 support.
Over the next few days/weeks I will also be doing some BSD (DragonFlyBSD / FreeBSD) operating system tests as well to see how those BSDs work out and perform for AMD's Zen 2 server processors.
The AMD Rome reviewer server features 16 x 32GB Micron DDR4-3200 RDIMMs, a Micron 1100 SSD 256GB SSD for the OS, six Micron 9300 3.84TB NVMe SSDs, and supports up through the 225 Watt EPYC 7742 processors.
Enough talk though, let's start looking at the AMD EPYC Rome Linux performance: AMD EPYC 7502 + EPYC 7742 Linux Performance Benchmarks.
There are also many planned follow-up tests over the days and weeks ahead from looking at the compiler performance to storage testing, BSD benchmarking, Windows vs. Linux comparisons, and much more as well as hopefully looking at some of the other processors in the EPYC 7002 product stack. If any other EPYC 7002 test requests, feel free to let us know via the forums or Twitter - these new server CPUs are looking incredibly competitive and should be interesting times ahead in the data center.
If you enjoyed this article consider joining Phoronix Premium to view this site ad-free, multi-page articles on a single page, and other benefits. PayPal tips are also graciously accepted. Thanks for your support.