We Rely On Your Support: Did you know that the hundreds of articles written on Phoronix each month are mostly authored by one individual working insane hours? Phoronix.com doesn't have a whole news room with unlimited resources and relies upon people reading our content without blocking ads and alternatively by people subscribing to Phoronix Premium for our ad-free service with other extra features. You can also consider a tip via PayPal.
AMD FX-8320E Performance On Linux
Back in September AMD announced new FX CPUs that included the FX-8370, FX-8370E, and FX-8320E. Back then we reviewed the FX-8370/FX-8370E CPUs under Linux but at the time didn't have our hands on the more affordable FX-8320E processor. In December AMD sent over the FX-8320E and so for the past few weeks I've been happily using this new Vishera CPU.
Like the FX-8370 CPUs and the other FX CPU launches of 2014, the FX-8320E isn't based on the Steamroller architecture but is another Vishera processor based on the Piledriver architecture. The FX-8320E is an eight core package with a TDP of 95 Watts, down from 125 Watts on the non-E FX-8320. The FX-8320E is clocked at 3.2GHz with a 4GHz max frequency and supports DDR3-1866MHz memory.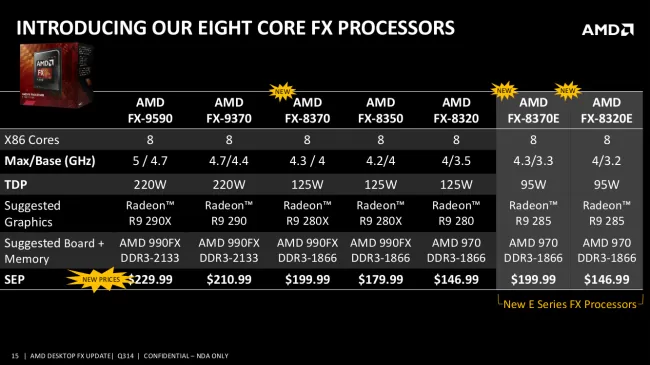 The FX-8320E is designed to compete with Intel's mid-range Core i5 offerings with AMD still not having any answer to Intel's latest high-end CPUs, but hopefully the tide will turn in 2015. At the time of writing the FX-8320E is retailing for about $139 USD from major Internet retailers, down from the original $150 launch price-tag.
While many would have hoped that AMD would be out with Steamroller-based FX CPUs or even Excavator to heat up the competition with Intel, the FX-8320E is a possible candidate for those with an older AM3+ system that may be looking to upgrade just the processor without having to worry about doing a full system upgrade.
Given the architecture and that we've tested out many of the Vishera FX CPUs on Phoronix going back to 2012 with the original AMD FX-8350 launch, Linux users really don't need to worry about any compatibility concerns with the FX-8320E or other Vishera CPUs. The motherboards also shouldn't cause any real problems either as long as you're on a modern Linux distribution. Of course, for best support and performance I always recommend running the latest GCC/Clang compiler, Linux kernel, etc.
In this article are benchmarks of the AMD FX-8320E compared to several other AMD CPUs along with Intel's desktop processors under Ubuntu Linux.